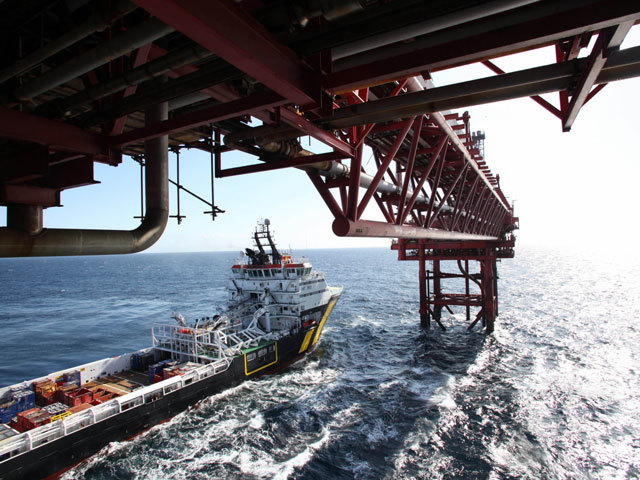 Spanish oil and gas company Repsol is weighing up a takeover of Canada's Talisman Energy.
Calgary-based Talisman owns just over half of North Sea joint venture Talisman-Sinopec.
Repsol and Talisman both confirmed they were in talks.
Meanwhile, the UK's BG Group refused to comment on speculation it is seeking buyers for operations in the North Sea as it attempts to overhaul its portfolio.
BG is reportedly working with investment bank Rothschild to sell the Armada, Everest, and Lomond platforms, ideally as a single package.
It is thought the assets could fetch more than £1billion.
Madrid-based Repsol said it was studying different acquisition deals to boost its upstream business, including Talisman, but had not made any decision.
Talisman confirmed an approach by Repsol, "with regards to various transactions", but refused to go into detail.
It said it was making the brief statement at the request of market surveillance authorities for the Toronto stock exchange.
Trading in the shares was halted after they shot up 7% on talk about Repsol exploring a takeover bid for the company.
Talisman owns 51% of its North Sea joint-venture with China's Sinopec, a partnership employing around 3,000 people either directly or indirectly through contracts.
Repsol has reportedly been looking for opportunities to spend £3billion (U.S.) in compensation it received following the nationalisation of assets in Argentina.
Talisman currently has a market value of about £7.2billion, but its stock has fallen against a background of operational problems in the North Sea.
Chief Executive Hal Kvisle, who is due to step down later this year, has pointed to the region as the barrier to improved financial and operating performance, as well as to potential suitors.
Ongoing investment in Talisman-Sinopec has been likened to keeping up mortgage payments on a house whose value has plummeted.
On the talk concerning BG Group, a spokesman for the firm said: "We do not respond to rumour and speculation on what we may or may not do in managing the assets in our portfolio.
"However, BG Group's approach is that we keep all assets under review to ensure shareholders' funds are put to best use.
"BG Group has been clear that we plan to take a more active approach to managing our assets, an important part of our strategy for delivering industry-leading growth in shareholder value – no asset is sacrosanct.
"We would disclose material developments within the portfolio, if and when they occur, at an appropriate time via the appropriate channels."
Recommended for you

px Group launches energy solutions unit to help asset operators decarbonise