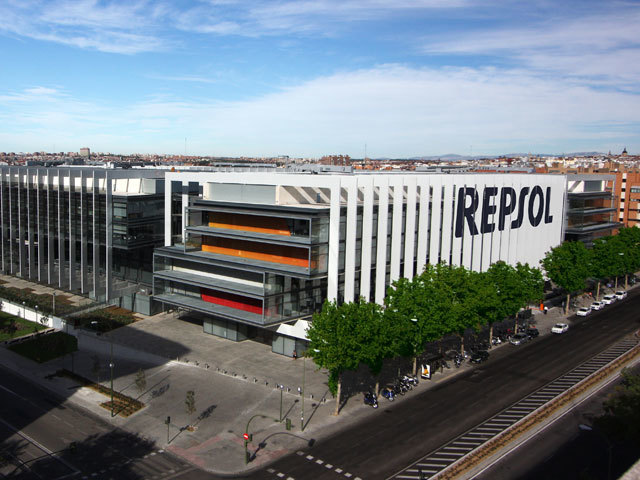 Repsol SA has dropped a plan to buy all of Talisman Energy Inc., and is instead weighing the purchase of some of the Canadian company's shale assets, people with knowledge of the matter said.
After conducting due diligence on Talisman the Spanish company abandoned its original plan for a full takeover, the people said, asking not to be identified discussing private information. Repsol failed to find buyers for assets it wasn't interested in owning after a takeover, including Talisman's North Sea and Southeast Asia assets, the people said.
Talks between Calgary-based Talisman and Repsol over assets in Texas's Eagle Ford and Alberta's Duvernay regions are moving slowly and it's uncertain that any deal will be reached, the people said. The Madrid-based oil company is assessing the value of several assets that could help meet its goal of growing in more stable economies than it has operated in previously, the people said.
Representatives for Repsol and Talisman declined to comment. Talisman said in July it had been approached about "various transactions" by Repsol, noting that there was no assurance that any deal would be reached.
Talisman dropped 1.7% to C$10.91 at the close in Toronto, giving it a market value of C$11.3billion ($10.4billion).
The Canadian company's chief executive officer, Hal Kvisle, is trying to sell assets as he seeks to rein in debt and refocus a company with operations spanning six continents. Talisman has sold some properties, including a portion of its Montney shale holdings in Canada.
Talisman has struggled to find buyers for others, including its operations in the UK's North Sea where investment is required to replace old infrastructure, and for shale holdings in North America where natural gas supplies are surging. The company's Southeast Asian assets are also on the block, two people said.
Repsol was exploring a bid for Talisman after identifying it as a top target, people with knowledge of the matter said before Talisman confirmed the talks.
Repsol Chief Financial Officer Miguel Martinez said in May that the company is looking for targets that offer a "growth platform" and are based in more stable countries than most of its current overseas operations.
Talisman and Statoil ASA scrapped their effort to sell a joint venture in the Eagle Ford after offers came in lower than expected, people familiar with the matter said in July. The companies were seeking as much as $4billion for the partnership, the people said.
Repsol could buy Talisman's part of the venture or the entire operation, one of the people said. Talisman has about 61,000 acres in the south Texas portion of the Eagle Ford, a development that helped propel the state's oil output to the highest in more than 40 years in April, according to the U.S. Energy Information Administration.
Talisman has been seeking to sell down its holdings in the Duvernay, a shale region that's been compared to the Eagle Ford, since at least 2013. The company has about 352,000 acres there.
In recent years, global energy companies including Chevron Corp., Exxon Mobil Corp. and PetroChina Co. have purchased stakes in the Duvernay seeking to produce condensate and other petroleum liquids that fetch higher prices than natural gas.
Also on the block is Talisman's stake in a A$1.4billion ($1.3billion) offshore Australian project operated by Woodside Petroleum Ltd., the company has said.
Kvisle, a board member who replaced John Manzoni to lead Talisman in 2012, plans to leave this year and Talisman has yet to announce a replacement. While insisting it's not his strategy to sell the company, Kvisle has never ruled out a sale.
Talisman's turnaround has been hampered by spending commitments and under-performance in the North Sea, Kvisle said in May. In 2012, Talisman committed to investing $2.5billion over five years in the UK North Sea when it brought China Petrochemical Corp. in as a partner in the region. It has been considering abandoning its Yme development offshore Norway after spending more than $1billion.
The Wall Street Journal earlier reported that talks between the two companies had stalled.
Recommended for you

Repsol Sinopec charts expected $3.6bn decom spend