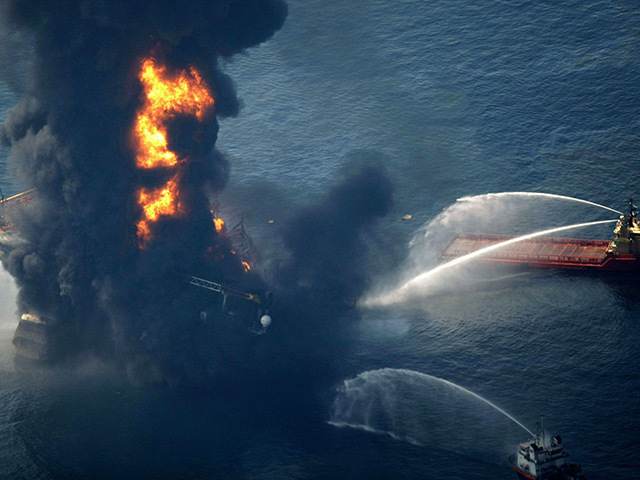 More than £5billion was wiped off the stock market value of oil giant BP yesterday after a judge ruled that the oil giant was "grossly negligent" in the run-up to the Gulf of Mexico disaster.
Shares in the firm slid nearly 6% following news from America that billions of pounds worth of extra fines could be looming over the 2010 spill.
Louisiana district judge Carl Barbier said BP bore 67% of the blame for the Macondo incident.
Crucially – with the firm facing civil penalties under the Clean Water Act – the judge ruled that BP had been "grossly negligent", quadrupling the fines it potentially faces.
BP immediately contested the ruling last night.
It said: "BP believes that the finding that it was grossly negligent with respect to the accident and that its activities at the Macondo well amounted to wilful misconduct is not supported by the evidence at trial.
"The law is clear that proving gross negligence is a very high bar that was not met in this case. BP believes that an impartial view of the record does not support the erroneous conclusion reached by the District Court."
The court is due to hold additional proceedings in January
The statutory maximum penalty is 1,100 US dollars per barrel where the court finds simple negligence and 4,300 dollars per barrel US dollars where the court finds gross negligence or wilful misconduct.
In July, BP put the current cost of the disaster, which includes compensation and criminal fines, at 43 billion US dollars (£25.3billion).
Mr Barbier presided over a trial in 2013 to apportion blame for the spill that spewed oil for 87 days in 2010. Eleven men died after the well blew.
The judge essentially divided blame among the three companies involved in the spill, ruling that BP bears 67% of the blame; Swiss-based drilling rig owner Transocean takes 30% and Houston-based cement contractor Halliburton Energy Service takes 3%.
In his 153-page ruling, Mr Barbier said BP made "profit-driven decisions" during the drilling of the well that led to the deadly blow-out.
"These instances of negligence, taken together, evince an extreme deviation from the standard of care and a conscious disregard of known risks," he wrote.
The ruling means BP could face as much as 17.6 billion dollars (£10.8billion) in civil fines under the Clean Water Act, said David Uhlmann, a University of Michigan law professor and former chief of the Justice Department's environmental crimes section.
BP pleaded guilty in January 2013 to manslaughter charges for the rig workers' deaths. BP also agreed to pay a record 4 billion dollars (£2.4billion) in penalties as part of its deal with the Justice Department, but the plea agreement did not resolve the federal government's civil claims against BP.
Recommended for you

BP and Shell to pay employee travel costs after abortion ruling