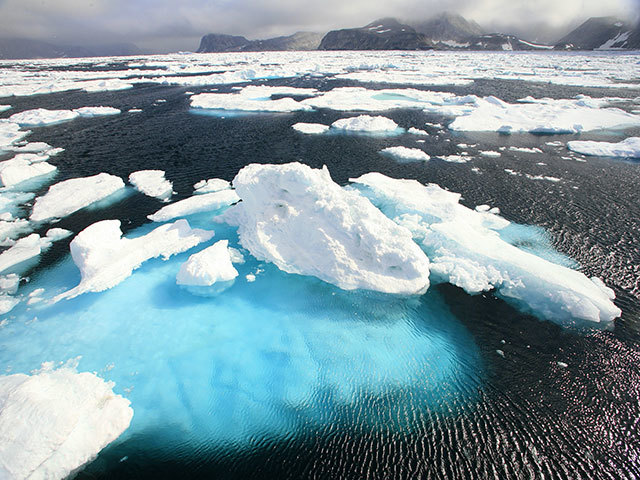 After Exxon Mobil Corp. mounted a campaign to warn U.S. officials that prematurely halting work with Russian oil giant Rosneft on an exploratory oil well could foul the Arctic, the Obama administration last week gave the company a two-week reprieve from sanctions on Russia.
The temporary retreat has handed Russia's leaders a golden public relations opportunity, one they plan to exploit. Today in the Kara Sea off Siberia's northern coast, Igor Sechin, a Putin confidante, ex-Soviet apparatchik and the chief executive officer of Rosneft, the world's biggest publicly traded oil company by production, will announce an update on the $700million exploratory well.
"Clearly the Russian government, and by extension big state companies like Rosneft, want to show wherever they can that business as usual is possible despite the sanctions regime, knowing full well" that everything will be harder now, said Andrew Weiss, head of the Russia program for the Washington- based Carnegie Endowment for International Peace.
Exxon persuaded top US Treasury and Energy Department officials that it couldn't safely obey a White House order to halt the venture with Russia's national oil company OAO Rosneft by today, according to four people with knowledge of the talks.
Exxon warned that rushing to shut the well could spark an environmental disaster on the scale of the 2010 Deepwater Horizon blowout in the Gulf of Mexico. Treasury Secretary Jack Lew decided Exxon would get two extra weeks; the company had asked for an extra month to wind down its work safely, according to one U.S. official involved.
The US sanctions imposed Sept. 12 were meant to punish Russian aggression against Ukraine by forcing Exxon to halt its $3.2billion joint Arctic venture with Rosneft, Russia's second- biggest company by market value, almost immediately.
President Barack Obama trumpeted the new measures on Sept. 11, the night before details were released. He said the new sanctions would increase Russia's political isolation and economic costs in areas important to Putin.
They did — for a week. After the Treasury Department approved the extension, Rosneft announced Sept. 20 that drilling had resumed.
While some US officials had worried that making an exception for Irving, Texas-based Exxon, the world's largest oil company, would undercut their own sanctions, Energy Department engineers concluded that forcing the company to plug the well by the deadline could risk an environmental disaster, people involved in the discussions said. They spoke on condition of anonymity to discuss the internal debate.
The Treasury Department decision to issue Exxon a license to continue the Arctic drilling until Oct. 10 has allowed the company and Rosneft to stick close to the drilling schedule their engineers and logistics staffs had laid out during planning sessions in early 2013, said one person familiar with the planning.
While Rosneft is expected to portray progress on the well as a victory and proof that sanctions can't hurt Russia, the financial and trade restrictions imposed by the US and European Union in the six months since Russian leader Vladimir Putin's annexation of Crimea have hobbled his country's economy and energy exploration efforts far more than Russia admits, as a falling ruble and shrinking growth indicate, Weiss, a former National Security Council and State Department official, said in an interview.
"Any sanctions regime, particularly with Russia, involves a lot of trial and error," Weiss said. "Exxon is one of the largest foreign investors in Russia," and even if drilling continued for some days after a reprieve was granted, the sanctions will have a long-term and "clear impact on Russia's government and Rosneft, which have staked so much on this," Weiss said.
Rosneft would have tried to finish the well without the help of Exxon or its subcontractors if necessary, company vice president Larisa Kalanda said Sept. 20. If Rosneft had found a commercially viable oil reservoir without Exxon, the U.S. company would have had to enter new negotiations to rejoin Rosneft to develop it, Kalanda said.
Yet an array of Exxon officials, including Chairman and CEO Rex Tillerson, said that protecting the environment, not the cost of renegotiating the joint venture if sanctions are eased, was the reason Exxon needed more time.
Exxon argued that the original deadline to halt work by today would stop progress on the Universitetskaya-1 well prematurely, creating conditions that could echo the chain of events that led to the Deepwater Horizon well blowout, the worst oil spill in US history. The company made no mention of completing the well or restarting drilling in its Sept. 19 announcement of its temporary exemption from sanctions.
John Hofmeister, CEO of energy policy group Citizens for Affordable Energy, and the former CEO of Royal Dutch Shell Plc's U.S. business, said "risk management is at the top of the list for Exxon."
"The Valdez incident changed Exxon forever," he said, referring to an Exxon oil tanker's spill in Alaska in 1989. "Exxon will always put safety before commerce."
For the US government, as well, safety has to be a more important consideration than sticking to a schedule for sanctions, Hofmeister said.
An Energy Department official who wasn't authorized to be quoted said his department supported giving Exxon more time to halt its operation because there were credible environmental risks.
A Treasury Department spokeswoman stressed that Russia won't reap any benefit from its frozen Arctic partnership with Exxon.
"The Kara Sea project will take many years to develop and will require the extensive use of western technology. As long as Russia continues its aggression toward Ukraine, and US sanctions remain in place, Russia will not have access to the U.S. firms and technology that it needs to continue pursuing this project," Treasury spokeswoman Hagar Chemali said.
The Sept. 12 sanctions barring US and European Union companies from helping Russia exploit oil resources in the Arctic, deep sea and shale formations are part of a six-month campaign of escalating economic penalties aimed at pressuring Putin to abandon his support for armed separatists in Ukraine and punishing him for annexing Crimea.
Exxon ordered workers aboard the West Alpha rig to halt drilling within days after the new sanctions were announced, according to a person who was aboard the rig then. That left the well about 100 meters (328 feet) above the target depth for what geologists expected to be the primary layer of oil-soaked rock. Without drilling deeper, there was no way for Exxon or Rosneft to know for sure what the reservoir held.
While Rosneft might have been able to complete the well on its own, its engineers on the rig were young and inexperienced in handling the big surge in pressure that could come from piercing the reservoir, one of the people familiar with the operation said.
Exxon and Rosneft are exploring a geologic formation never before drilled, which means the pressure changes, layer densities and temperatures at various depths are unknown, increasing the risks of unexpected collapses or pressure bursts. Engineers closing the well need to map the formation a foot at a time as they back out of a well, a process that can take weeks.
Exxon executives sought the extension after their engineers warned they needed more time to plug the well with cement and conduct tests to ensure there were no leaks, cracks or faults that could damage the reservoir or allow environmental contamination, one of the people involved in the talks with the Treasury and Energy Departments said.
Once an exploration well is drilled, cement is poured down the hole to seal the oil- and gas-bearing zones to prevent pressure surges that could blast the cap off the well and spew crude into the ocean. Typically, oil companies return to sealed wells months or years later to remove cement plugs and connect the wells to pipelines that carry crude and gas to the surface.
An improperly poured cement job may leave cracks through which pressurized oil and gas can seep, resulting in leaks or even blowouts, Ken Medlock, director of Rice University's Center for Energy Studies at the Baker Institute in Houston, said in a telephone interview.
A faulty cement job was one of the factors investigators blamed for BP Plc's Macondo well blowout in April 2010 that killed 11 rig workers, fouled the Gulf of Mexico with millions of barrels of crude and sank the $385 million Deepwater Horizon drilling rig.
One overarching question that remains is whether any economic sanctions can persuade Putin to stop supporting armed pro-Russian separatists in Ukraine.
"I'm not convinced these any of these measures will change Russia's calculus in the short-term on an issue that it deems to be of paramount national security," Weiss said.
Recommended for you
X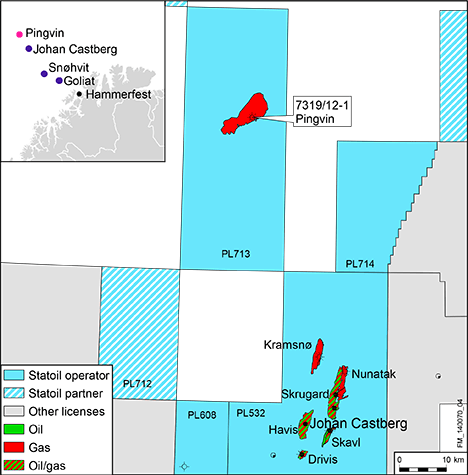 Statoil's wildcat well dubbed a "play opener"