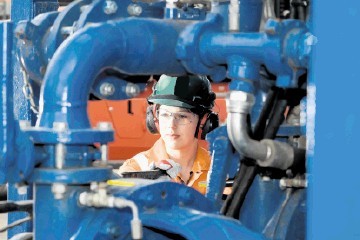 A leading oil and gas company has cancelled Christmas parties for thousands of workers – because bosses fear upsetting colleagues who are losing their jobs.
Aker Solutions, which employs more than 2,000 people in Aberdeen, called a halt to its annual festive celebrations to show "sympathy" with hundreds of staff in Norway who have been affected by cutbacks. The company is shedding posts in Stavanger, Bergen, Alesund, Kristiansund and Trondheim, but not in Aberdeen.
Staff based in the north-east were reported to be upset at the decision to ditch the festivities.
The oil and gas services firm has gone all-out in recent years to celebrate the festive season, hiring specialist party planners to run a family fun day at Ardoe House Hotel.
In 2011, during better times for the firm, up to 200 children and their parents enjoyed an afternoon filled with games, face painting and a pinata stuffed with gifts at the hotel.
Aker, which is controlled by Norwegian billionaire Kjell Inge Roekke, has said its business has been affected by a decline in Norway's offshore "maintenance and modifications market".
When the cuts were announced this summer, Aker chairman Oyvind Eriksen said the company was doing all it could to secure alternative work for its staff, although he could not rule out the possibility of layoffs.
A spokeswoman for the company confirmed that all its Christmas parties were being called off.
"We have cancelled Christmas parties this year across the company in sympathy with employees who've been affected by the slowdown in the Norwegian maintenance, modifications and operations (MMO) market," she said.
"While demand for Aker Solutions products and services is generally good, particularly within the deepwater and subsea segments, the MMO business in Norway has been impacted by a slowdown in this particular market and we have adjusted our workforce capacity in this area."
She added that its UK business was experiencing "growing demand".
In April, Aker will move into new offices being built near Aberdeen International Airport.
The company plans to move its employees into the giant building that will include catering facilities, a gym, sports hall, two squash courts, a medical centre, retailing and a creche.