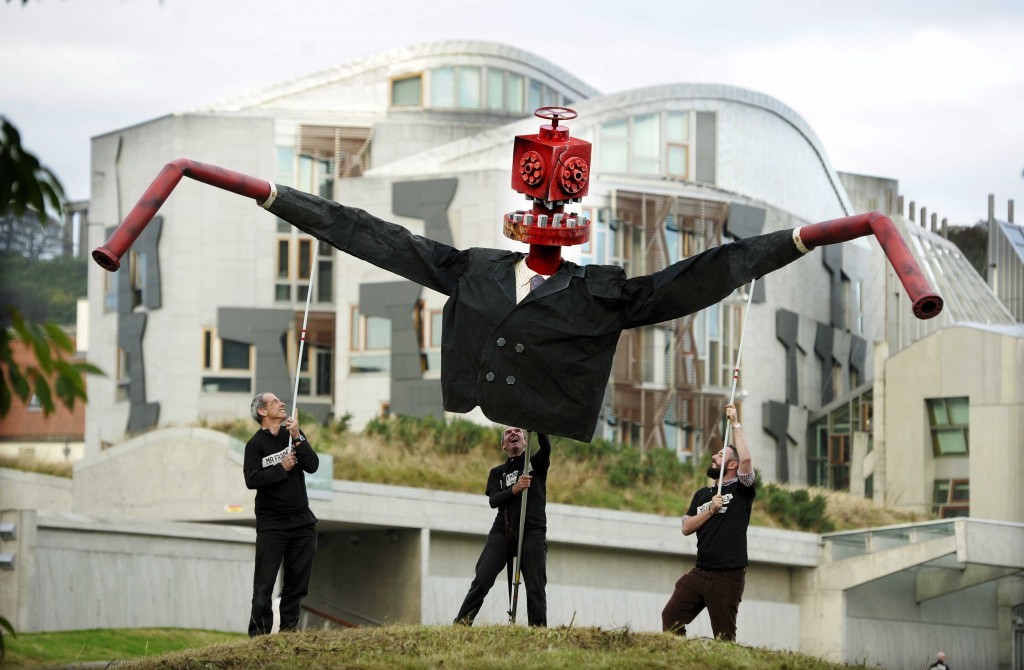 The Government is "backing the wrong horse" in its policy on fracking and needs to invest further in renewables, a Lib Dem MP has warned.
Former home office minister Norman Baker argued shale gas extraction had been "over hyped" and could be "damaging rather than helpful" to the country.
The MP for Lewes said there was "significant doubt" as to whether or not the reserves of potentially usable shale gas and shale oil were going to be as "exhaustive and extensive as the Government has maintained".
Energy policy aims, he said, were to secure security of supply, help meet climate change targets and use the energy supply to create jobs, help the economy and keep prices down.
Speaking at the start of his Westminster Hall debate on fracking, the extraction of shale gas through controversial hydraulic fracturing, he said: "The issue is whether or not the Government's policy in terms of fracking achieves those objectives and I'm not sure it does and therefore I would suggest to the minister we may be backing the wrong horse or at least putting too much money on the wrong horse."
Mr Baker quit as a home office minister earlier this month, days after a row over drugs policy, issuing a parting shot that working under Tory Home Secretary Theresa May was like "walking through mud".
He added the premise that shale gas was cleaner than coal was also "in some doubt". The fracking process uses high-pressure liquid pumped deep underground to split shale rock and release gas.
Mr Baker said the UK Government had given a strong lead internationally on tackling climate change and what the UK did was "very important in sending a signal to other countries in the world".
He said: "If we end up with a massive shale gas industry which is what some parts of the Government have suggested may be the case then we are building in reliance on fossil fuels to a large degree for an indefinite period of time.
"If on the other hand the shale gas reserves are not realisable as I believe they may not be in fact, then we are going to spend a lot of money and time on something which doesn't actually produce very much at all.
"Either way it doesn't make much sense."
Mr Baker noted that ministers had committed themselves to a strict regulatory regime, but questioned whether the "rhetoric bears truth to the reality" arguing the Infrastructure Bill "seems to me not to reflect that high level of regulation that I would like to see".
Concerns, he added had been voiced by some conservation groups and residents that the countryside "may end up being pockmarked" as a consequence of the nature of fracking.
Mr Baker said there was potential to do even more with renewable energy.
He said: "I would suggest there is an alternative energy strategy available which gives security, which produces efforts to reduce climate change successfully, which produces jobs and that's to invest further in the renewables, that's the horse I would ask the minister to back."
He added: "My message to the minister is I would advise him to stop backing the wrong horse, and back the right one which is renewables. I think shale has been over hyped and it could be damaging rather than helpful to our country."
Tory David Mowat, MP for Warrington South argued there was "no contradiction" in supporting renewables and supporting fracking, and part of the way of reducing carbon reliance was by the displacement of polluting coal with gas.
He argued that 87% of the world's energy in 2013 and 2012 came from fossil fuels.
It was important not be cavalier about local issues on fracking, he said, but he urged the Government to "proceed in a responsible way to evaluate the potential of this technology and use it if it works".
Labour's Lilian Greenwood, MP for Nottingham South said: "There is a high level of public scepticism and concern about fracking, whether it's about health implications or environmental concerns, many of which are clearly genuine and legitimate.
"It's for the Government to introduce robust regulation and monitoring before they proceed with it to ensure the public support it, if that is going to be the way forward on this matter."
On regulation, Green MP Caroline Lucas (Brighton Pavilion) said she feared the Government's "deregulatory zeal" would "win out".
Building a whole new fossil fuel industry, she said, was the "last thing that the UK should be doing if we're serious about securing that safe and habitable climate for our children and grandchildren".
There were "numerous other ways", she added, to ensure coal was off the system by the early 2020s.
She said: "The only safe and responsible thing to do with shale gas is to leave it in the ground."
Labour's Iain McKenzie (Inverclyde) said renewable energy sources such as tidal, hydro and wind would help make the UK a leader in reducing carbon emissions.
Shadow energy and climate change minister Tom Greatrex urged caution, saying the idea that shale was a silver bullet to solve all our energy problems "just does not stack up".
There was a public acceptability test in dealing with fracking, he said, adding it was "absolutely crucial" that local, legitimate environmental concerns were addressed and the wider regulatory points were properly robust.
Mr Greatrex said: "Exploration will only happen with greater public consent and it is in that framework that I think we should be addressing this debate."
Energy minister Matthew Hancock said it was incumbent on Government to explore the potential of shale gas but the question of how much could be brought out remained unanswered.
Work, he stressed, needed to be done in a reasonable, careful and safe way and it was "entirely consistent" with building renewables and with having secure domestic supplies.
The Government, he said, had doubled the amount of energy coming from renewables, with 13% of electricity from this source last year.
He said: "This is an opportunity that it is incumbent on us as a country to look at and to explore, that it can be done in a way that is safe, that has to be done with a strong regulatory structure, but nonetheless provides the opportunity for jobs, for energy security, for economic benefit and in the short term to tackle climate change by removing other dirtier fuels from the system within the context of a balanced energy mix."
Recommended for you

'We have lost a year': Plans for £18bn UK-Morocco energy link stall