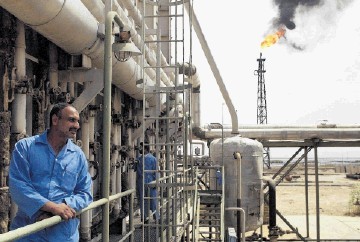 Iraq's cabinet approved a smaller 2015 spending plan than the government expected because of the collapse in oil, which provides most government revenue.
The budget, based on a $60 a barrel price for oil, stands at 123 trillion dinars ($103 billion), Saad Al-Hadithi, spokesman for the office of the prime minister, said.
The budget deficit was set at 23 trillion dinars and total revenue at 99.8 trillion dinars, including oil revenue of 84 trillion dinars, Obaid Mahal, deputy secretary general of the cabinet, said.
The 2015 budget had initially been set at 141 trillion dinars, and was 138.4 trillion dinars in 2013.
"The reason behind the cut in the budget is because of the oil price drop, and curbing unnecessary spending," Mudher Mohammed Saleh, economic adviser to Prime Minister Haidar Al-Abadi, said.
Iraq, home to the world's fifth-largest crude reserves, is engulfed in an armed conflict since Islamist State militants took over major cities and energy facilities in June.
Global crude prices dropped about 45% this year because of an oversupply and slower growth in demand amid the largest US oil production in at least three decades.
"The operational budget is 78 trillion dinars and the rest is investment budget," Faris Yousif Jajo, minister of technology, said by phone.
"The cut in the investment budget covered all ministries for investment projects including oil," he said, without providing details.
Parliament speaker Saleem Al-Jibouri called for an extraordinary session at 11am local time on December 26 to discuss the budget, according to state-sponsored Iraqiya television.
Ahmed Mahjoub, media adviser to the parliament speaker, confirmed the session by phone.
Iraq's oil exports in the 2015 budget were set at 3.3 million barrels a day, Mahal said.
Its production accounted for 10% of OPEC's output in November at 3.35 million barrels a day, according to data compiled.
Iraq has been building its oil infrastructure and surpassed Iran to become the second-largest producer in the Organization of the Petroleum Exporting Countries in 2012.
The government may have to scale back its plan to boost production in the next five years because of the drop in oil prices and the cost of fighting the militants, Iraq's Deputy Prime Minister Rowsch Shaways said on December  17.
Iraq's previous government failed to adopt a state budget for 2014 because of political disputes mainly with the semi-autonomous Kurdish enclave in the north of the country, aggravated by the drop in oil prices.
The Kurds' share in the 2015 spending plan was kept unchanged from previous budgets at 17%, according to Mahal.
Recommended for you

Russia offers to ease Europe's gas crisis, with strings attached