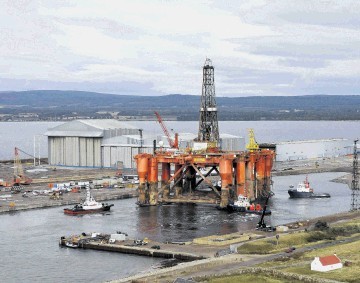 GEG (Global Energy Group) has seen a big rise in revenues only weeks after it confirmed job losses at its fabrication yard on the Cromarty Firth.
The energy services firm said turnover had risen by 32% to £472million in the year end to March.
The company's profits have also jumped from £18.8million to £28million.
Earlier this month the group said some workers had been made redundant due to the downturn in the oil and gas business.
GEG chief executive, Iain MacGregor, said: "The group will invest £20m during 2014/15 to complete the second phase of development at the yard.
"This will turn the existing quayside facilities into a world-class port with deep-water berths.
"Such an investment will grow our logistics offering and help the company secure further projects in both the renewables and the oil and gas markets.
"These revenues are more predictable and long-term in nature, which combined with dry dock projects will create a more sustainable offering.
"To offset an expected downturn in UK projects (due to the oil price), the group will further develop its international marine business, targeting acquisitions and joint ventures in the Mediterranean, Middle East and Asia to widen our international reach.
"We will also be targeting acquisitions to further diversify the groups' markets in our process and equipment business, with a focus on building on our nuclear, petro-chemical and water-focused revenues."
Its successes included winning a number of rig and marine enhancement projects and modifying its first FPSO (floating production, storage and offloading) unit in the Nigg dry dock.
The company is currently seeking to create a new harbour at Nigg which it argues is needed to support work at sites it operates at Nigg and Invergordon.
Recommended for you

Interview: UK energy minister reaffirms oil and gas support ahead of COP26