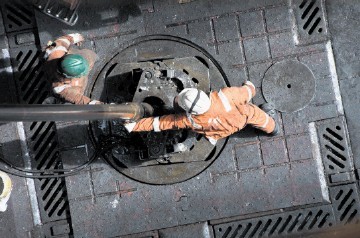 An oil firm failed to approve 159 safety-critical work orders for deferral.
The Health and Safety Executive (HSE) found 182 outstanding jobs when it carried out an inspection on the North Sea Clyde platform, 159 of which had not been approved for deferral.
The company has since been issued with an improvement notice following the evaluation last year.
The HSE notice said: "Upon receipt of this information and with regard to the deferral processes described in your procedures, I formed the opinion that you had failed to properly implement your procedures.
"Consequently, in my opinion, you had failed to give effect to such arrangements as are appropriate for the effective control of your preventative and protective measures."
A spokeswoman for Talisman said: "We can confirm that it has received an Improvement Notice from the Health and Safety Executive regarding our processes for approving the deferral of maintenance on safety-critical items.
" We have made substantial progress in addressing the process issues raised by the HSE and are well ahead of the target of complying with the terms of the Notice by the deadline of May 2015.
"The safe operation of all TSEUK sites is our number one priority. The facility remains fully operational and the safety of all those on-board is not compromised by the matter identified by the HSE."
For more oil and gas news click here.