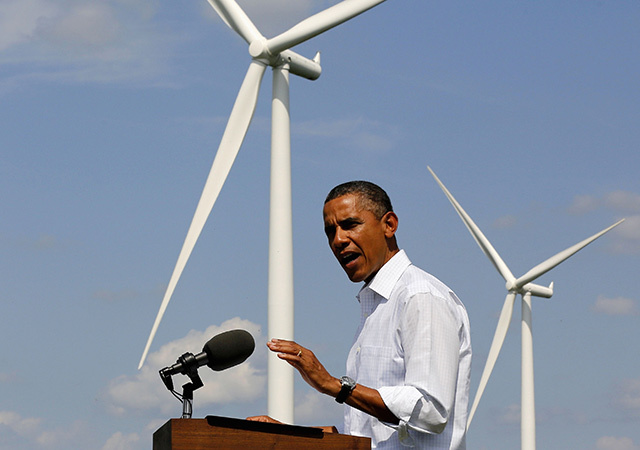 The Obama administration proposed opening to offshore drilling an area from Virginia to Georgia in a policy shift sought by energy companies but opposed by environmentalists worried about resorts such as the Outer Banks or Myrtle Beach.
The offshore plan for 2017-2022 marks the second time President Barack Obama has recommended unlocking areas in the US Atlantic for oil drilling, and it drew a swift retort from allies who say the payoff doesn't justify the risk of a spill along the populated coast.
The agency said Atlantic leases won't be auctioned for at least six years and drilling wouldn't start for several more years.
"This plan takes a balanced approach to oil and gas development," Interior Secretary Sally Jewell said.
"It protects areas that are just too special to develop."
Managing the US oil and gas boom has become a fraught issue for Obama, who has trumpeted the benefits of the jump in production and falling prices, while also seeking to balance it with a desire to combat climate change and guard against pollution.
Environmentalists say the administration hasn't done enough to counter the risks of spills such as the BP Plc disaster in 2010 and rising greenhouse-gas emissions.
"Opening these areas to dirty fuel development is incompatible with a healthy future for America's coastlines, coastal communities, or our climate,"
Athan Manuel of the Sierra Club said in a statement. "As the administration finalizes this plan, we hope they will shift the focus away from the dirty fuels of the past."
In addition to planning for Atlantic exploration, the White House said it would designate 9.8 million acres in the Beaufort and Chukchi seas near Alaska as off limits for future drilling.
Still, the Interior Department didn't stop Arctic exploration altogether, saying it would allow one new sale each in the Beaufort, Chukchi and Cook Inlet.
And it would have 10 sales in the most resource-rich area, the Gulf of Mexico, and none in the eastern Gulf or Pacific Ocean.
Exploration in the Atlantic, which has about 5% of the recoverable oil of the Gulf of Mexico, will require a 50-mile buffer to protect the coast, the department said.
This proposal is the first step in setting out the leasing of federal waters, and Jewell said comments from industry, citizens and environmentalists could lead to changes before it's finalized.
It's unclear now how interested companies would be in either Arctic or Atlantic production.
Both Royal Dutch Shell Plc and ConocoPhillips already have leases for the Arctic, although neither has produced oil there.
Shell had to regroup after a disastrous attempt to explore in 2012, and neither has plans approved to explore this year. Those leases weren't affected by Tuesday's announcement.
Obama's proposal comes as a decline in global oil prices has drillers cutting their production. West Texas Intermediate for March delivery rose $1.08, or 2.4%, to $46.23 a barrel on the New York Mercantile Exchange.
The contract fell to $45.15 on Monday, the lowest close since March 2009.
Meanwhile, oil companies say they are trying to fend off a series of onerous rules from the Obama administration.
Already this year, the Environmental Protection Agency said it would curb methane emissions from drilling and transport operations, and Obama announced that his administration would manage the
Arctic National Wildlife Refuge as a wilderness, dashing hopes for new production there. New rules on fracking on public lands and on blowout preventors are also in the works.
Obama announced December 16 he was blocking the leasing parts of Bristol Bay, Alaska, for oil production.
"The trend is not a good one," Erik Millito, the director of upstream activities at the American Petroleum Institute, said. "There has been decision after decision" against the oil industry, he said.
Even the drilling plan put too many areas off limits, and does only the "bare minimum" with one lease in the Atlantic, he said.
Opening up a part of the Atlantic has been pushed by the oil industry for years. Governors in Virginia, North and South Carolina and Georgia have all advocated drilling off their coasts, although some seaside communities and local environmental groups oppose it.
"It's encouraging to see the federal government finally acknowledge what we've been fighting for with our federal delegation for years," South Carolina Republican Governor Nikki Haley said in an e-mail. "Exploring for energy off the coast is a critical economic development issue."
Visitors to the state's coastal resort community of Myrtle Beach climbed 37%, to 15.2 million, in 2012 from 2005, according to the area's Chamber of Commerce.
In April 2010, Obama announced that he would open areas in the Atlantic and eastern Gulf of Mexico for drilling, a plan he shelved after the disastrous BP spill in the Gulf that year.
The Interior Department in 2011 estimated that the mid and south Atlantic held approximately 2 billion barrels of undiscovered recoverable oil, only a fraction of the 43.3 billion barrels estimated for open areas of the Gulf of Mexico.
John Northington, an oil and gas industry consultant, said oil companies believe there may be more resources under the Atlantic than government estimates show.
"It's a new area," Northington, who was an energy adviser in the Interior Department under President Bill Clinton, said. "The industry has to look long term, and so does the government."
The US held 10 oil and gas lease sales in the Atlantic from 1976 to 1983, the Interior Department said on its website.
Fifty-one wells were drilled: five test wells from 1975 to 1979, and 46 industry wells from 1977 to 1984.
Five wells off New Jersey had successful tests for natural gas or a form of oil known as condensate and can be found in mid Atlantic wells. These five wells were abandoned as non-commercial.
At present, there are no active oil and gas leases in the Atlantic area.
Still, Democratic lawmakers criticized the plan, saying they would urge Obama to reverse course before the proposal is finalized and block Atlantic drilling.
"Offshore oil spills don't respect state boundaries," said Senator Edward Markey of Massachusetts. "A spill in North Carolina could affect Massachusetts."
For more oil and gas news click here.
Recommended for you

Petronas strikes oil and gas off Sarawak