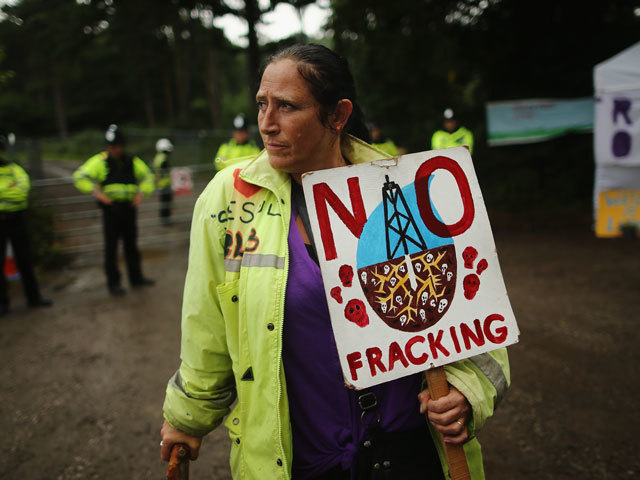 Almost all the areas being made available for fracking in England will be hit by new regulations restricting the controversial process, analysis suggests.
Greenpeace renewed its call for a ban on fracking, as it said 97% of the areas made available for new onshore oil and gas licences would be at least partially affected by the new conditions.
The Government has accepted Labour moves to ban fracking from national parks, Areas of Outstanding Natural Beauty (AONBs), Sites of Special Scientific Interest (SSSIs) and some groundwater protection zones, areas which feed aquifers.
Almost half (45%) of the 931 licence blocks in England would be significantly affected by the changes, with at least half of the area they cover overlapping with one or more of the protected areas.
Some 68 of the 416 significantly-affected blocks would likely be entirely off limits for fracking, if Labour's amendments to the Infrastructure Bill are passed by the House of Lords, as they fully overlap with protected areas, Greenpeace said.
And 489 blocks (53%) would be partially affected, as they had some environmentally sensitive areas that could not be fracked.
Just 26 licence areas contain no regulated areas, and could be freely fracked, Greenpeace claimed.
The Government is pushing for the development of a shale industry in the UK, claiming it would create jobs and growth, reduce energy prices and cut the country's reliance on gas imports.
However, opponents have raised fears that fracking causes earthquakes, can pollute water supplies, and could lead to inappropriate development in the countryside and damage house prices.
There are also concerns over the impacts for the climate of exploiting more fossil fuels.
The debate has intensified in recent weeks, with Scotland imposing a moratorium on planning permission for the process and a new poll showing that 40% of people were against fracking in the UK, outstripping those in favour of it going ahead.
A decision on giving planning permission to two new fracking sites in Lancashire, where much of the resource is thought to be found, has also been delayed.
Greenpeace UK climate and energy campaigner Louise Hutchins said: "Banning fracking in sensitive places like national parks and the land feeding our water reserves is a matter of basic common sense.
"With a moratorium in Scotland and Wales asking for more powers to do the same, the shale industry's seemingly irresistible advance is now looking more and more resistible every day.
"Unless ministers can explain why fracking is too risky for the South Downs but perfectly safe in the Lancashire countryside, the next obvious step is to ban this controversial technique from the whole of the UK.
"In the face of mounting evidence of this industry's harmful impacts on our water, air, and climate, this is the only responsible action our government can take."
For more oil and gas stories click here.
Recommended for you

Sunak reinstates fracking ban in reversal of Liz Truss policy