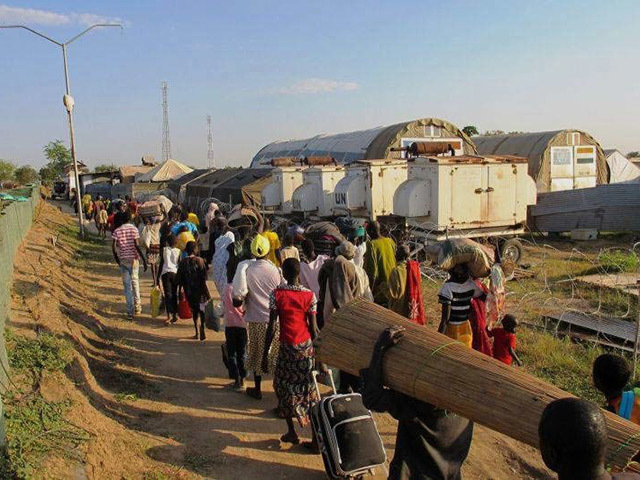 Fighting between rebels and government forces in South Sudan's oil-producing states intensified, the army said before the two sides meet on Monday for peace talks.
Rebels attacked non-producing oil fields north of the Unity state capital, Bentiu, on Friday and were repulsed, army spokesman Colonel Philip Aguer said by phone from the capital, Juba.
The Sudan People's Liberation Army is "in full control of Unity oilfields and has captured a number of equipment including tanks and ammunitions," Aguer said.
"The oilfields of Unity state are not functioning now because of the insecurity of the rebel attacks, but they are not controlling it."
Fighting that erupted in the world's newest nation in December 2013 has left tens of thousands of people dead and more than 2 million displaced.
South Sudan is facing the highest levels of food insecurity in its four-year history, with 4.6 million people, or 40 percent of the population, facing acute hunger in the next three months and needing urgent aid, the World Food Programme said last month.
Crude production in the country, home to sub-Saharan Africa's third-largest reserves, has been cut by at least a third during clashes that have targeted facilities.
Before the conflict, China National Petroleum Corp., Malaysia's Petroliam Nasional Bhd. and India's Oil & Natural Gas Corp. pumped most of the oil.
Government and rebel representatives are set to hold talks in the Ethiopian capital, Addis Ababa, next week.
The government delegation will leave Sunday for a consultative meeting with rebel negotiators, Information Minister Michael Makuei Lueth said by phone Saturday.
"We don't know what the agenda is, but three negotiators from both sides will be at the consultative meeting," Lueth said.
Recommended for you

North Sea oil worker survives mortar attack and flees Sudan amidst fighting