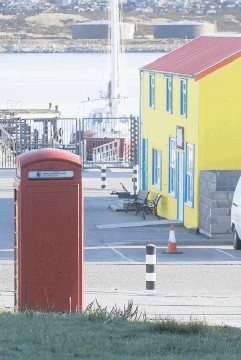 Any attempt by Argentina to seize the assets of oil drillers operating in the disputed Falkands will have no basis in law, the UK Government has said.
On Saturday, a federal judge in Tierra del Fuego, Argentina, ordered the seizure of assets worth nearly £100million in bank accounts, boats and other property belonging to European and US oil companies operating in the Falklands.
Argentine Foreign Minister Hector Timerman was quoted in the local press on Sunday as saying his country intended to pursue the case as part of its claim to the islands' sovereignty.
Yesterday, a spokeswoman for the Foreign Office in London said: "We have always been very clear that this is an unlawful assertion of jurisdiction over the Falklands Islands' continental shelf, which we reject, and we will raise it with the appropriate authorities.
"We are satisfied that the islands have the right to develop their hydrocarbons sector as a legitimate commercial venture with international oil and gas companies, and will continue to support them as they move forward. Argentine domestic law does not apply to the Falkland Islands."
The companies named in the judge's order were Premier Oil, Falkland Oil and Gas, Rockhopper Exploration, Noble Energy and Edison International.
Argentina claims sovereignty over the South Atlantic islands it calls the Malvinas, located about 435 miles off the coast of Tierra del Fuego. They are inhabited by around 3,000 people, the overwhelming majority of whom say they wish to remain living in a British overseas territory.
Britain and Argentina fought a short war over the disputed archipelago in 1982, after the then Argentine military dictatorship seized the islands by force, and tensions have flared again in recent years with the discovery of oil deposits.
Argentina has promised to resolve the dispute through diplomacy, but the country faces elections in October and the country's politicians often pepper their campaigning with nationalistic rhetoric. The companies involved declined to comment.