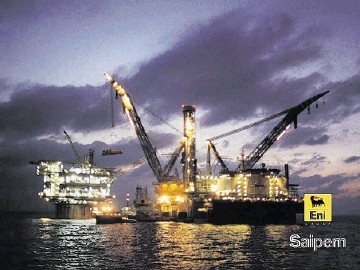 Italian oil contractor Saipem SPMI.MI is working with Bain & Company to draw up a restructuring plan to help it cut costs and counter falling oil prices that have sapped its order book and stretched its balance sheet, three sources said.
Saipem, 43 percent owned by state-controlled Eni ENI.MI, has lost around three-quarters of its value in the last 30 months after a corruption probe in Algeria, two profit warnings and increasingly bleak business prospects. The cancellation of a Black Sea pipeline contract was the latest blow. (Full Story)
"The plan is called 'Fit to 60' — whipping the company into shape to deal with life with crude at $60 a barrel," a source with knowledge of the matter said.
Low oil and gas prices have prompted majors and governments the world over to cut energy investments and shelve projects, starving oil service companies of business and forcing them to streamline operations.
A second source said Saipem was "bigger than ever" at a time when the outlook was darkening and had to rein in costs.
Saipem and Bain declined to comment.
Eni has drafted in veteran oilman Stefano Cao as CEO to turn the company round and help in its plans to sell down its stake so it can get more than 4 billion euros of Saipem debt off its own balance sheet.
The second source said the restructuring plan was needed to steady the ship ahead of a capital increase that was likely later in the year to help Eni get Saipem on its own feet and bring on board new investors.
"They won't attempt a cash call without first a geographic review of its businesses and costs," the source said.
Italian broker Mediobanca Securities said this week a stake sale by Eni would require 3.0-3.5 billion euros of fresh equity.
It was not clear what measures were being considered in the cost-cutting plan but trade unions said they had not been informed of any headcount cuts. "I've heard nothing," said Emilio Miceli, head of Filctem-CGIL union.
A third source familiar with the matter said the plan envisaged no major job cuts in Italy, adding it would be discussed at a board meeting next week.
Saipem, which employs around 50,000 people worldwide with a presence in 62 countries, releases second-quarter results on Tuesday — Cao's first public encounter with the market since his appointment.
Recommended for you

Eni working with Russia's Gazprom to restore Italian gas flows