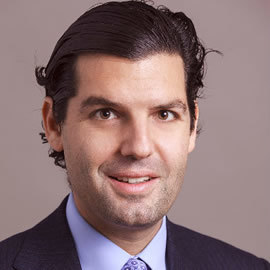 The man who last month helped blow up a $1.6billion bid for Pacific Rubiales is now urging Latin America's largest independent oil producer to expand amid the worst crude meltdown in decades.
Alejandro Betancourt, the 35-year-old Venezuelan who controls almost 20 percent of Pacific's stock, says growth for the Colombia-based company hinges on its ability to tap new resources and markets in Mexico and Venezuela.
In the meantime, it needs to sell assets to survive.
Betancourt surprised analysts when he resisted a takeover by Alfa and Harbour Energy in June, leading them to abandon their bid.
Now, as he moves to expand his influence with Pacific, Betancourt is trying to put past questions about his business practices in Venezuela behind him, along with what he says has been a disruptive family feud.
The payoff could be big: a boost for Pacific, and a new role for Betancourt as a leading voice on energy in the region.
"Our long-term view is that Pacific needs to enter new markets to grow," said Betancourt, who is among a small group of wealthy young Venezuelans who thrived while Hugo Chavez was president.
Betancourt's comments come as both Venezuela and Mexico struggle with falling oil revenues.
In Venezuela, state-owned Petroleos de Venezuela, or PDVSA, is working with foreign partners to develop large reserves in the Orinoco belt. Mexico is bringing foreign investors to its oil sector for the first time in decades.
While Pacific declined to comment on Betancourt's remarks, chief executive Ronald Pantin said his relationship with his biggest investors "is very good." A day later, the company was renamed Pacific Exploration & Production Corp., which the company's statement said reflected "a broader focus in Latin America."
Whether that focus includes an expansion into Venezuela is an open question. Before being named Pacific's chief, Pantin headed PDVSA's service unit. He opposed the siphoning of oil revenue for social projects promoted by the late President Chavez, and left PDVSA in 2000.
"We try to focus on the macroeconomic fundamentals, and not be influenced by the political risk of our country," Betancourt said during an interview at his penthouse offices overlooking Caracas's financial district.
"We believe Venezuela has so much potential, so much room to grow, that there are clear rewards in bringing good oil people back into the country."
The first step for Pacific may be more downsizing, according to Orlando Alvarado, a portfolio manager for O'Hara Administration, the Betancourt-owned company that gathered the leading stake in Pacific. If O'Hara's stake reached 20%, it would have to tender a takeover bid, Pantin said.
Pacific's credit score was lowered by Fitch Ratings after the failed takeover. The company has lost 84% of its value over the last 12 months.
While Pacific has already undertaken cost cuts, a further asset sale of oil transport infrastructure would "ensure the company's survival in the current oil-price environment," Alvarado said.
In Venezuela, Betancourt is best known for his work with Derwick Associates, a power-plant construction company he founded with a cousin that's done business with the Chavez government and U.S. equipment supplier ProEnergy Services.
As Betancourt spoke at a separate interview in Caracas, he drew a family tree on a piece of paper. Historically, his family has been highly influential in Venezuela, with a former president, governors, congressmen, generals and cattle barons represented. Now, Betancourt said, it's a family divided over his business dealings with Chavez's government.
On his sketch, he draws squares around family members who support him, and circles names of those that don't. When he's done, about a third of the sprawling clan are circled. While no relatives were directly involved in the lawsuits against him, Betancourt said the family rift may have spurred them.
"We got a phone call in 2010 from certain relatives who weren't happy," he said. "They told us that if we don't stop they would seek to destroy us.
I said, 'OK, bring it on.'"
Betancourt denies the company has done anything wrong. His financial success, he said, was achieved through an aggressive gamble on energy just when the country needed help the most, not because of any political connections.
"We were nimble, fast," he said, adding that Derwick accepted all government conditions for the work. "We wouldn't ask for a down payment; we took the risk."
Now, he is looking at new opportunities with his support of Pacific. "We have taken similar risks many times before," he said. "And we will continue to do it."