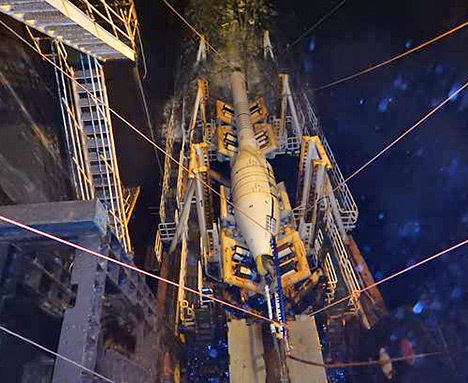 Norwegian energy giant Statoil has announced the completion of its 482km Polarled pipeline, the deepest on the Norwegian continental shelf.
The final pipe of more than 40,000, was laid at the Aasta Hansteen field at a depth of 1,260m in the Norwegian Sea.
The pipeline, which has a diameter of 36 inches, extends from Nyhamna in Møre og Romsdal to the Aasta Hansteen field in the Norwegian Sea and was laid by the world's largest pipelaying vessel, Solitaire, owned by Allseas.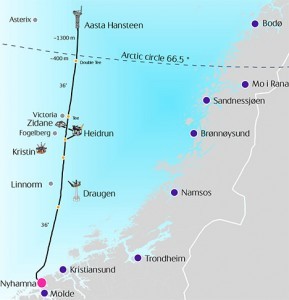 Pipelaying work began in March this year and the pipeline consists of more than 40,000 12m long pipes.
It is the first time a 36-inch diameter pipe has been laid at such a depth, posing technical challenges to cope with the extreme pressure. The pipeline's capacity will be up to 70 million standard cubic metres of gas per day.
Last month, Polarled became the first gas pipeline to cross the Arctic Circle, opening a new "gas highway" from the Norwegian Sea to Europe.
Statoil has delivered the project under-budget – costing NOK 7.5billion.
"The fact we could combine several large projects when we went to the market and negotiated for pipes and vessels meaent we were able to achieve favourable conditions in the market with regard to capacity and price," explained Torger Rød, head of projects in Statoil.
In the initial stage, only the gas from Aasta Hansteen will be transported through Polarled, however the 36-inch diameter pipe has space for more. Statoil has installed six connection points that it calls "future slip roads to the new gas highway".
Håkon Ivarjord, project director for the Polarled development project, said: "With this pipeline, we open up for the export of gas to Europe from a completely new area, and with the infrastructure in place it will also be more attractive to explore the area," he concludes.
"Energy supply security is essential to the EU and the individual European countries. Tying in a new Norwegian Sea area to the gas transportation network Polarled will be an important link for further gas export, thus strengthening Norway's position as a reliable supplier to the European gas market," says Grete Haaland, head of asset management in Statoil's marketing, midstream and processing business area.
Recommended for you

Project Pathfinder: EnQuest tips further decom contracts