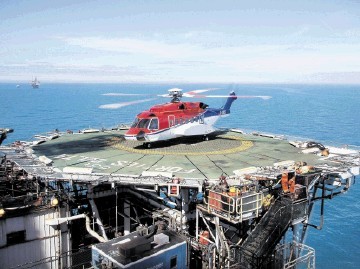 CHC has confirmed 18 employees have been made redundant after a consultation took place over roles.
The company said it had been able to minimise the loss to its North Sea operations.
In August CHC began a consultation with staff estimating 50 positions could be affected at its Aberdeen base.
The helicopter firm said jobs had been saved through a combination of flexible opportunities as well as securing roles elsewhere in the business for staff.
Ron Smith, general operations manager for CHC's West North Sea region, said: "We have now concluded the consultation.
"Working closely with our employees and union representatives, we were able to minimise the number of positions affected in Aberdeen.
"We have identified job share positions and other flexible opportunities and a number of employees have been successful in securing roles elsewhere in the business.
"I'd like to thank everyone for their collaborative approach to this process and to thank those who are leaving the company for their service."
CHC employs around 450 people in the UK.
A consultation process is also currently ongoing over positions with Bristow.
The company previously said there could be up to 130 job losses – including 66 pilots – in jobs across the UK.
The British Airline Pilots Association (BALPA) surveyed its staff a few months ago over the possibility of strike action which it said had "overwhelming support".
Recommended for you

CHC appoints two new European directors following management shake-up