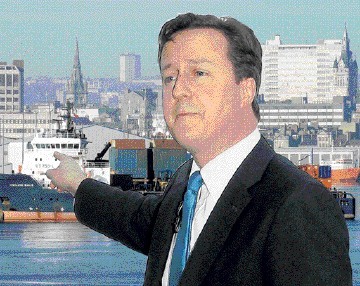 David Cameron has claimed a low oil price was "basically good for the British economy" as he faced calls for an urgent review of the North Sea industry.
The prime minister was warned the consequences of falling prices were "potentially catastrophic".
English Tory Sir Alan Duncan also called for action to "avoid the destruction" of the sector.
During Prime Minister's Questions in the Commons he said: "If it goes on like this, we risk seeing regimes under pressure, dramatic corporate failures and financial default.
"We risk seeing enormous financial transfers out of our markets to pay for other countries' deficits, a possible collapse in share prices and dividends for pensions and a liquidity problem in our banking sector."
Mr Cameron agreed it was important to "look very carefully" at what could be done.
But he also pointed to the "highly beneficial effect" of low prices for consumers filling up their cars for less than £1 a litre.
The Tory prime minister added: "That is a very big increase in people's disposable income and wholly welcome.
"I think a low oil price is basically good for the British economy, as an economy that is a substantially manufacturing and production economy."
Among the "other consequences", he singled out the "calamity" of the "complete and utter collapse of the SNP's policy".
Former Scottish secretary Alistair Carmichael criticised the Mr Cameron's comments on prices.
The Liberal Democrat northern isles MP said those who had lost their jobs this week would "not be quite as keen on the low oil price as David Cameron appears to be".
He added: "The industry's health is crucial to the performance of the UK economy. It needs to know that the government understands that and is prepared to help it through this difficult time."
Asked later whether Mr Cameron appreciated the scale of the oil crisis, his spokesman confirmed he did and pointed to the measures already taken by the UK Government.
Meanwhile, shadow Scottish secretary Ian Murray has written to Chancellor George Osborne asking what steps he plans to take to maintain the industry and guard against future job losses.
Energy minister Andrea Leadsom indicated last week "further fiscal measures" to support the sector are "on the table".
They are likely to be unveiled at the Budget in March.
Aberdeen South MP Callum McCaig said: "Six thousand direct jobs losses in addition to 65,000 indirect job cuts is not good for the economy and it is baffling that the prime minister seems to think otherwise."
Recommended for you

UK government plans new oil and gas 'price shock' tax mechanism post-EPL