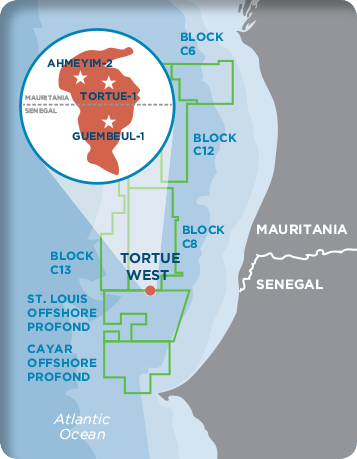 Kosmos Energy and BP said today that it expects to reach a final investment decision on the Tortue gas field project off West Africa towards the end of 2018. 
Dallas-headquartered Kosmos said Mauritania and Senegal had signed an agreement allowing the cross-border project to move forward.
First gas is slated for 2021. 
Kosmos chief executive Andrew Inglis said: "Kosmos congratulates Mauritania, Senegal, and their respective ministries and national oil companies for working together so effectively to reach an agreement that enables their shared gas resources to be developed quickly and efficiently for the benefit of both countries.
"The innovative near-shore LNG concept being used for Tortue positions the development as one of the lowest cost green-field LNG projects in the world.
"We look forward to working with BP and our national oil company partners to continue the front-end engineering design process that will enable a final investment decision around the end of 2018."
Bernard Looney, BP upstream chief executive, said: "This is an important milestone for this innovative gas project which reflects the strong, cooperative partnership between Mauritania and Senegal. We look forward to continuing to work with both countries and our partners, Kosmos Energy, Petrosen and SMHPM, towards a final investment decision."
Kosmos owns 29% of Tortue while BP holds 61%.
Recommended for you
X

Don't believe in climate change? Energy companies do