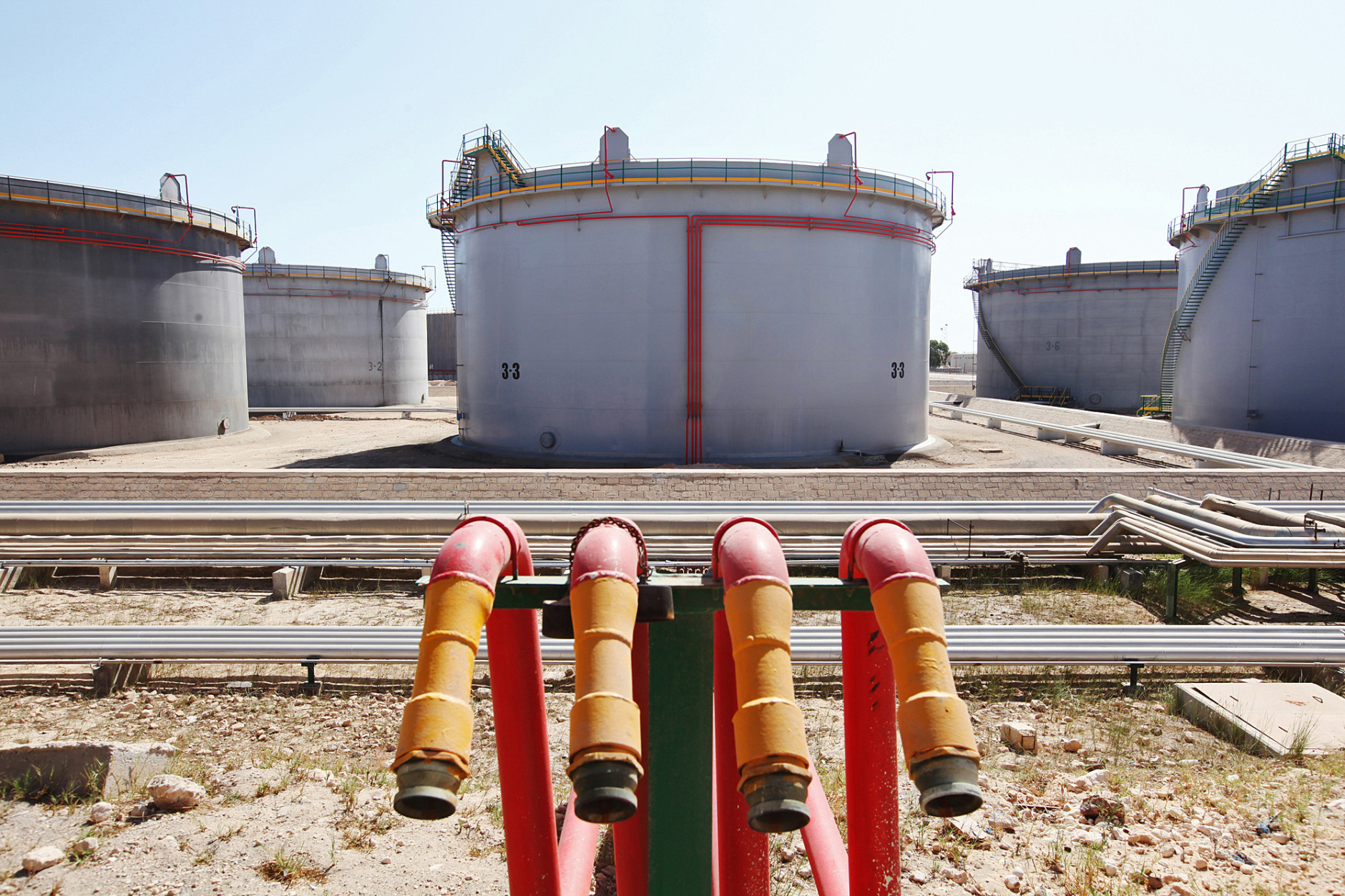 Libya's oil exports from the Mellitah terminal will be "modified" after protests disrupted production at the key El-Feel deposit for the first time in two months, putting the OPEC nation's crude production at risk of a decline again.
Crude loadings at Mellitah, the export terminal for El-Feel, will be "modified" after force majeure was declared on deliveries from the deposit on Feb. 23, the state-run National Oil Corp. said in a document obtained by Bloomberg. NOC said Saturday guards at the field were protesting over pay and other benefits. Force majeure is a legal clause protecting a party from liability if it can't fulfill a contract for reasons beyond its control.
Production at El-Feel, operated by a joint venture of NOC and Italy's Eni SpA, was last disrupted for one day in December due to a power outage. The field has production capacity of 90,000 barrels a day but it's not clear what output was before the latest disruption. NOC officials didn't respond to phone calls seeking comment.
Libya, a member of OPEC, was allowed to increase oil production while other nations in the group cut output to curb a global glut. The North African nation's output earlier this month was 1.1 million barrels a day, the highest since June 2013, a person familiar with the matter said. Oil finished a second week of gains on Friday after news that El-Feel was shut and American supplies drained. Brent was little changed at $67.33 a barrel by 11:42 a.m. in Dubai.
Mellitah was set to load four cargoes this month, each holding about 600,000 barrels, according to a loading program seen by Bloomberg. One vessel was scheduled to be loaded Feb. 21 to Feb. 23. The NOC didn't specify what the modifications will be to the loading program.
With a fragile political accord barely holding the country together, Libya faces an array of challenges preventing its return to the output levels of about 1.8 million barrels a day pumped in 2008. Pipelines and other facilities are targeted by armed factions and tribal groups jostling for political control and a share of oil revenue. El-Feel was briefly shut in August after an armed group closed its pipeline, prompting the NOC to declare force majeure back then.
Armed groups are seeking to gain a foothold in Libya's oil industry, NOC Chairman Mustafa Sanalla said Sunday in a statement, after meeting with Ghassan Salama, special representative to the United Nations' secretary-general. They agreed to work together to combat the groups and increase transparency over Libya's oil revenue.
"The central bank and the government must be clear about how the money is spent," Sanalla said. "NOC suffers greatly from current practices, which have resulted in essential investments in the oil sector being withheld, to the detriment of the nation."
Sanalla said in a separate statement that El-Feel guards were under the Ministry of Defence and it needed to respond to their demands. The shutdown and evacuation of employees from El-Feel came after the "deterioration of the security situation" as some members of the Petroleum Facility Guards threatened workers, entered the administrative offices in the field and tampered with official papers of the field administration and fired in the air, the NOC said Saturday.
Recommended for you
X

Charging your electric car at night could save the world