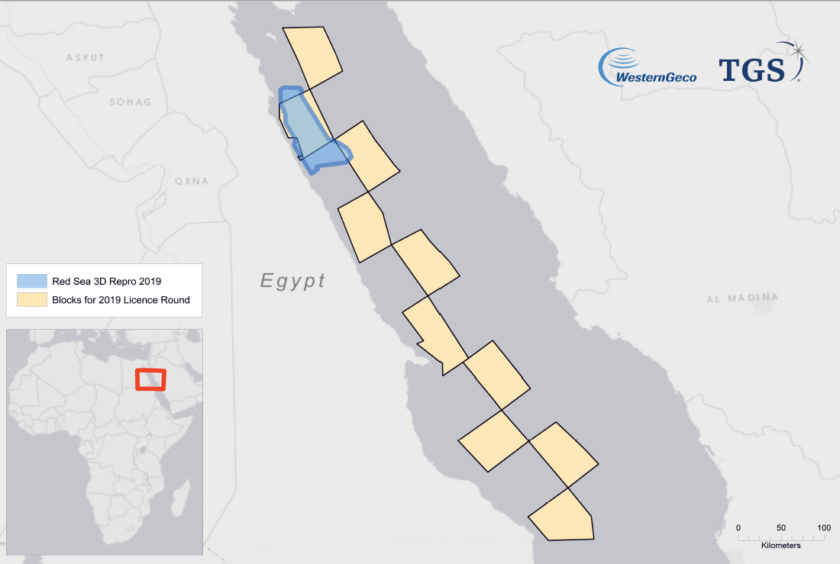 TGS and Schlumberger's WesternGeco are close to finishing 3D seismic reimaging on Egypt's Red Sea, as a licence round comes to a close in the area. The two companies said the work would cover data from three seismic surveys, covering 3,600 square km, which were acquired between 1999 and 2008.
The work is backed by industry pre-funding, the statement said. Data will be available before the offshore Red Sea licence round closes, on September 15. A consultant for TGS confirmed to Energy Voice that data would be available by the end of the week.
The work includes the integration of all legacy seismic and non-seismic data. It is intended to provide more information on defining complex subsalt structures, the seismic companies said.
"The Red Sea 3D reimaging project follows a multi-client 2D seismic acquisition programme that was completed in March 2018 as the initial step in mitigating the complex salt imaging challenges in the area," TGS' president Maurice Nessim said. Egypt's Red Sea is "made up of large, untested structures that offer growth opportunities for oil companies".
WesternGeco's president Maurice Nessim said the work would "define new exploration trends in this frontier basin. This collaborative approach will help our clients identify high-potential play segments, assess exploration risks and accelerate hydrocarbon discovery."
The two companies have a long-term agreement with the Egyptian Ministry of Petroleum and the state-owned GANOPE company for work in the Red Sea.
The Egyptian ministry is offering 10 blocks in the 2019 bid round, covering around 30,000 square km, in five basins. Schlumberger, in a statement on the round from earlier this year, described this as a "tremendous opportunity", although saying more information was needed on the subsurface, in order to delineate the "deep-seated, complex post- and presalt structures". The Red Sea round was launched in March, with a closing date of August 1. This was pushed back in July.
WesternGeco and TGS, with GANOPE, acquired around 11,000 km of 2D seismic on the area in 2018. Schlumberger said it had also reimaged around 17,000 km of 2D legacy data. TGS and Schlumberger announced they would work together on ocean-bottom node projects in the US Gulf of Mexico, in May.
The licence round has been criticised by Sudan, which contests Egypt's claims to part of the Red Sea. When the licence round was announced, a Sudanese government minister was quoted by the SUNA news agency as describing it as illegal. In particular, four of the 10 blocks are alleged to lie within Sudan's Halayeb territory. The relationship between the two countries has improved since the removal of the Omar al-Bashir led government in April.
Recommended for you

Egypt sets out 23 block offering