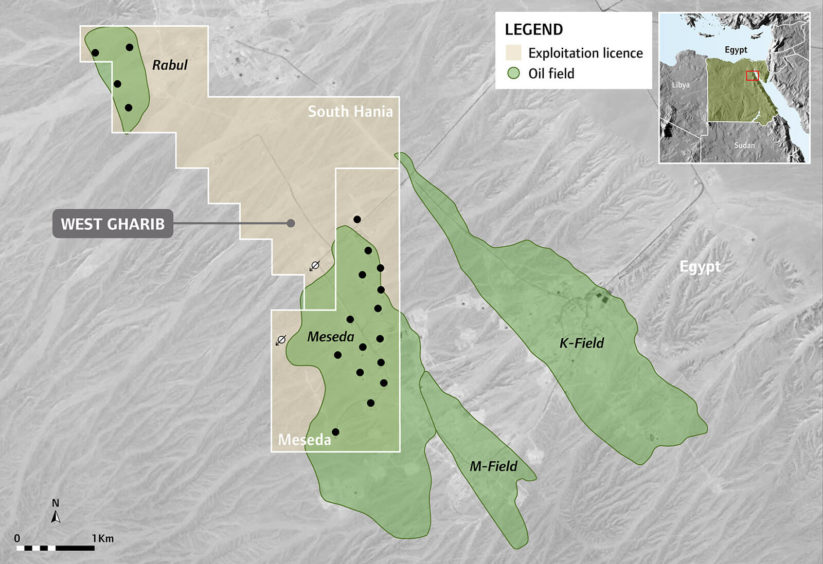 SDX Energy has struck oil at the West Gharib block, in Egypt, and begun producing.
The MSD-19 development well has found 41 metres of net heavy oil pay, the company said. It was drilled to a total depth of 1,421 metres, finding oil in the Asl formation, with an average porosity of 24%.
The well was completed and connected to the central processing facilities (CPF) at Meseda. Production has averaged 315 barrels per day over the first five days. The well was spudded in early August.
"The well was brought online in a timely and cost efficient manner and will provide further support to our 2019 production guidance for this asset of gross 4,000-4,200 bpd," said SDX's CFO and interim CEO Mark Reid. More development wells are planned for the concession over the next 18 months. The licence holds the Meseda and Rabul fields, which flowed at 4,300 bpd during the first six months.
This follows a discovery reported on the West Gharib in June. The Rabul-7 well found 40.8 metres of net heavy oil pay, with average porosity of 18%. Production over its first five days was around 415 bpd.
SDX has a 50% stake in the concession, while the remaining 50% is held by Dublin International Petroleum.
During the second quarter, workovers were carried out on five wells on the Rabul and Meseda fields, following on from four workovers in the first quarter. Spending on the fields is expected to be $5.4 million this year, of which $2.7mn is net to SDX.
The most important part of SDX's Egyptian portfolio is the South Disouq development, which will require $35.5mn gross spending in 2019. This is expected to begin producing at the end of the year and reach a peak of around 50 million cubic feet per day in the first quarter of 2020. Hooking up the CPF was due to begin in late August.
Additional exploration drilling is being considered for South Disouq. SDX has a 55% stake in this development.