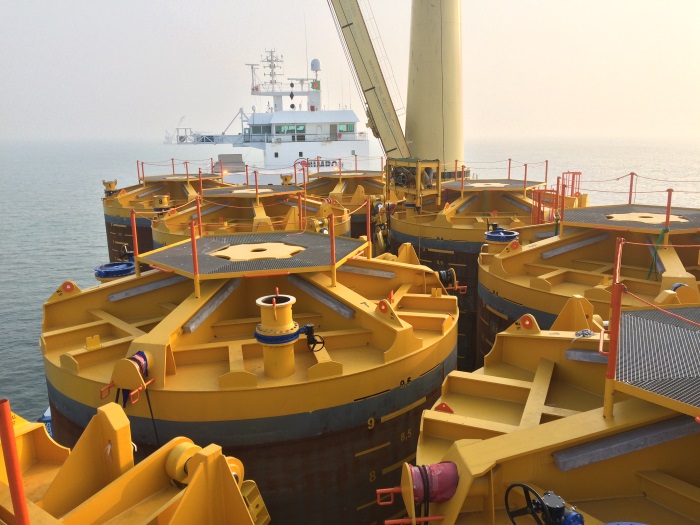 Equatorial Guinea is pioneering developments in gas trading around West Africa with plans for a first regasification facility and political initiatives.
"It is no secret that in 2014-15, the country – as with all the African producers, and the petroleum sector in general – took a hard knock," KearneyAfrica's founder Jude Kearney told Energy Voice. "During the downturn the government looked at how else they could diversify [the energy] sector and the economy in general. It's taking a greater regional role, particularly in gas beneficiation and transport, and I've been a part of that effort."
Equatorial Guinea has designated 2019 the "year of energy" and 2020 to be the "year of investment". The country expects a number of energy deals to be signed in 2020.
Speaking ahead of the signing of a memorandum of understanding (MoU) with the Ministry of Mines and Hydrocarbons, Kearney noted the country's aspirations to become a "mega hub for gas trading". There are a number of components to this, including new sources of supply and demand.
One component singled out by Kearney, which he described as a "big deal", was an agreement from April securing new resources for the onshore liquefaction plant, at Punta Europa. Noble Energy announced it would go ahead with the $330 million Alen backfill development, which it described as the first step "towards creating an offshore natural gas hub" in Equatorial Guinea. First production is expected in the first half of 2021.
Alen began producing condensates in 2013 with gas being reinjected in order to boost recovery. The backfill plan will involve modifications at the field's three wells, with a new 70-km pipeline to carry gas onshore. The pipe will have capacity of 950 mmcf per day, with Alen providing 200-300 mmcf, allowing scope for expansion. Liquids will be stripped out at the Alba plant, with the dry gas then liquefied at the EG LNG plant.
Noble and the partners in Alen will keep ownership of the production through processing, with the company handling negotiations for offtake agreements to sell the LNG. The Alen agreement demonstrates Equatorial Guinea's drive to continue exploring and developing liquid and gas finds, Kearney said.
Licence round
Gas is becoming increasingly important to Equatorial Guinea as oil production declines. Oil was discovered in commercial quantities in the 1990s offshore Equatorial Guinea, with work driven by a group of US companies. Oil production is declining, as is interest from US players, but the new focus is on extending progress made in the gas sector.
Kearney said there had been a drive to "broaden the roster of companies working in Equatorial Guinea". While historically this has been driven by US investors, the new licence round "is focused on all comers and it has attracted a cross section of investors. US investors will continue to be welcome but others are welcome as well. Once industry in general decides that it is back to business in terms of a robust industry, companies from around the world will start looking again."
The country launched a licence round earlier this year, offering 27 blocks, of which 25 are open for exploration, while the other two offer development opportunities. There are areas available throughout Equatorial Guinea's territory.
Gas supplies
A final investment decision (FID) was taken on the EG LNG project in 2004 and it shipped its first cargo in mid-2007, with its 500th shipped in 2016. The project has not always run smoothly. It was built with an eye on the US market with the sales contract based on Henry Hub prices. Production started as the US' shale revolution began, curtailing the need for LNG imports and allowing BG Group, and then Shell, to sell Henry Hub-based LNG to markets willing to pay much higher prices.
One demonstration of the country's new gas focus comes at the Port of Akonikien. A local company, Elite Construcciones, is building a regas terminal, with 14,000 cubic metres of capacity. Commenting in August when work began, the company said this would be the first of its kind to allow LNG to be distributed on the mainland. The facility also has a truck loading station and 12 km of pipelines.
The plant will allow gas to be transported – by trucks or pipes – to generate power or to be used in industry, such as cement production. Elite is working on the project with two German companies, ESC Engineers and Noordtec.
The Akonikien plan is part of the country's broader LNG2Africa project, which aims to provide gas supplies for consumption within the continent. Equatorial Guinea has signed deals under this framework with Togo, Burkino Faso and Ghana. Other potential importers of LNG include South Africa and Angola, with the latter having expressed interest in importing gas in discussions with US-based New Fortress Energy.
LNG2Africa is about "finding the best way to commercialise resources, to get resources into the right hands, to produce energy and power. Now is the time for governments to take stock of what gas reserves they may have and how to utilise that gas," Kearney said. "It's an idea whose time is now."
Sub-Saharan Africa offers opportunities and good news, the lawyer continued, but electricity has continued to be a challenge for much of the continent. "There's a dearth of reliable electric power, which stems from a number of reasons. Not all of those can be addressed by natural gas but it can certainly help, with some smart people thinking about how to package it and make it commercially available."
Tough line
The relationship between Equatorial Guinea and foreign companies has occasionally been difficult. Subsea 7 and CHC Helicopter were drummed out of the country in 2018 for failing to comply with local content regulations. Similarly, Malabo has taken a tough line with operators, calling for them to make progress or risk losing assets. Ophir Energy, which was working on the Fortuna field in Block R, lost its licence as a result of failing to progress on its proposed floating LNG scheme.
"Companies shouldn't be worried about expulsions for local content violations. One of the things that US companies – and others – hesitate about when considering where to invest are worries about a lack of rule of law. If there is an important and supportable policy, governments do themselves a favour by sticking to that policy. I don't think it has an overbroad impact," Kearney said.
The founder of KearneyAfrica was talking to Energy Voice ahead of the Africa Oil and Power (AOP) conference, which is to be held in Cape Town this week.
Recommended for you

Choosing fast FLNG to cash in on sky-high gas prices