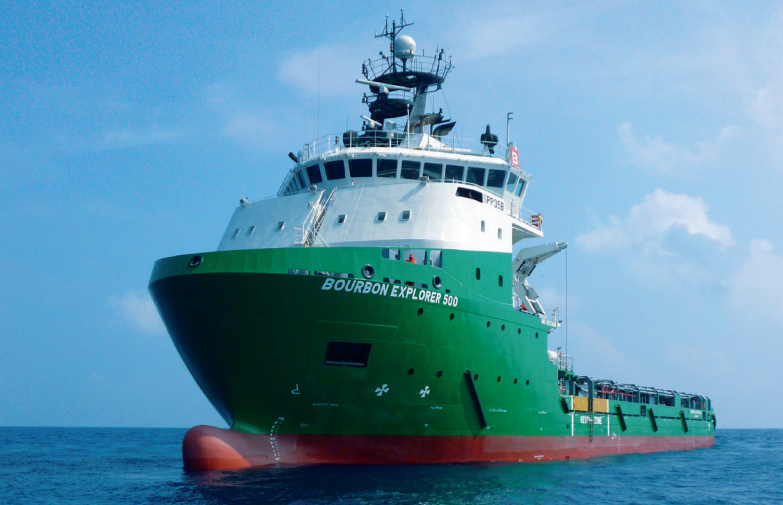 Bourbon has signed a three-year agreement with Total on cost cuts, through technological innovation, for operations offshore Angola.
Bourbon and its Angolan joint venture, Sonasurf, signed on to provide a smart shipping programme for five new generation supply vessels, working on Blocks 17 and 32. The French provider said the vessels were Bourbon Explorer 500 series. The programme intends to reinforce safety and reliability, while also reducing costs by 25% in the longer term.
In particular, it said, the agreement simplifies onboard organisation and moves some functions currently carried out on board onto the shore, through improved connectivity for the vessels. There are three pillars, Bourbon said: operations onboard, predictive maintenance and onshore operational support.
The plan "enables us to meet the challenge of controlling costs in the current time of recovering activity. We are very happy to have been able to move forward in collaborative mode with Total on this deployment project in Angola" said Sonasurf's operations manager Ivelino do Nascimento.
Bourbon's CEO Victor Chevallier said the programme "prefigures a new way of sustainable co-operation and optimised services delivery to our customers with fewer resources".
Bourbon launched a strategic overhaul of its works in early 2018 in order to cut costs and remain competitive at a time when margins were squeezed. The smart shipping programme was launched as part of this, with the aim of reducing the number of crew members on vessels from 14 to 10.
This involved dynamic positioning for vessels and the increased use of technology onboard, in order to simplify administrative work. This allows crews to focus on operations, Bourbon said. Furthermore, predictive maintenance will reduce the time during which vessels are unavailable.
Total is willing to use innovation, Bourbon said, in order to lock-in long-term vessel rates "and thus the control of its production costs".
Bourbon has a particularly strong emphasis in West Africa and has struggled in recent times, leading to a takeover offer being made in early October. The company said a group of French banks had made an offer that is being considered by the Marseilles Commercial Court, which is overseeing Bourbon's restructuring.
China's ICBC Leasing issued a demand in July that Bourbon pay all rental fees due up to 2026. The Marseilles court took this as evidence of Bourbon's insolvency.
In related offshore news for Angola, the Quenguela drillship remains in Malaysian detention, where it was seized earlier this month.
Recommended for you
X

Oil and gas industry spotlights benefits of digital tech