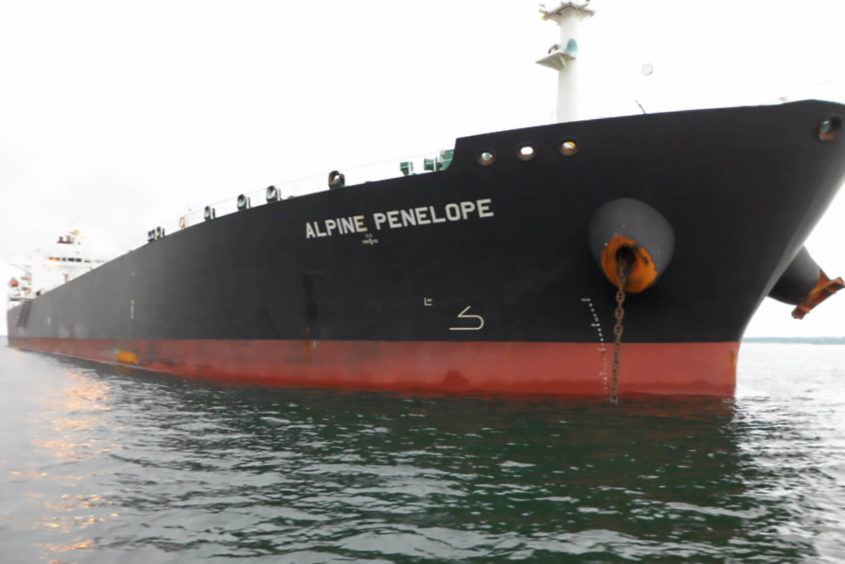 The Alpine Penelope tanker has been attacked offshore Benin with a number of crew kidnapped, Dryad Global reported.
The maritime security group said the ship had been attacked whilst on the way to Lagos. Dryad quoted a report as saying the officer on watch had identified two armed men on board and an alert was sent. After this, communications were lost.
The Alpine Penelope was 76 nautical miles (140 km) southwest of Cotonou. Dryad said the tanker was known to have 24 personnel on board, with a mix of Georgian, Filipino and Ukrainian nationalities.
The number of crew kidnapped appears to be nine.
The number of incidents reported in the waters off Cotonou have reached seven since January 19, with five of those involving boarding and two kidnappings. The Atlantic Discoverer container ship was boarded in January only 11 nautical miles (20 km) east of the Alpine Penelope attack.
During 2019, the waters offshore Benin and Togo became more dangerous, in both volume and severity, Dryad said, calling for all vessels transiting the area to conduct risk assessments and implement mitigation measures.
The Liberian-flagged tanker is owned and managed by Greece's Oceangold Tankers.
Pirates operating in the Gulf of Guinea have shifted away from seizing cargos and vessels, preferring instead to seize sailors who can be ransomed. The MV Bonita was attacked off Cotonou on November 3 with nine crew members taken from the gypsum carrier. They were released after 35 days in southern Nigeria.
A similar incident took place with the MT Duke, which was attacked on December 15 while under way, around 110 nautical miles (204 km) off Cotonou. The crew was released just over a month later, although one sailor had died during captivity.
Update: 7:17 pm. Corrected the number of kidnapped crew members from 10 to nine.