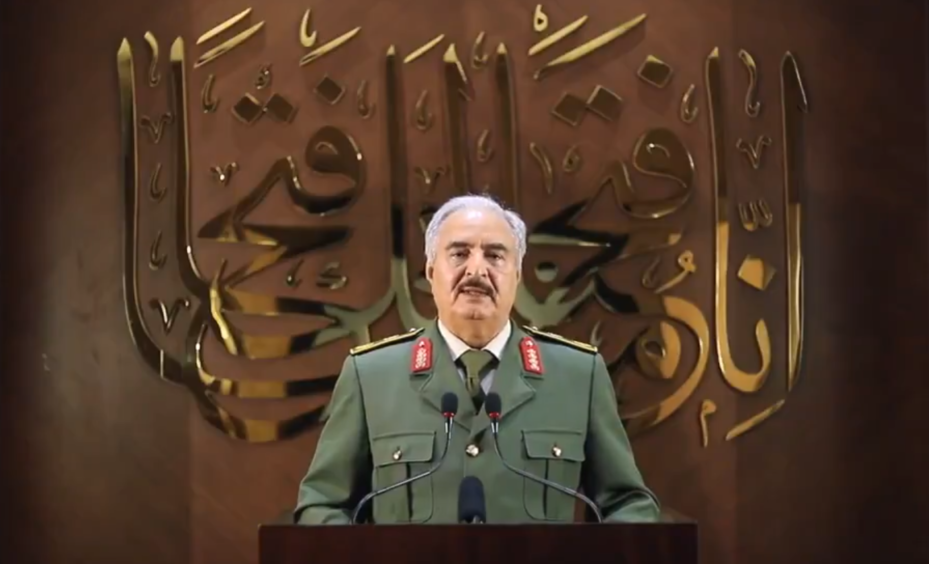 General Khalifa Haftar has declared that the Libyan National Army (LNA), which he leads, has the mandate to rule Libya.
The general was talking in a televised address on April 27. Haftar's move rejects a 2015 agreement that attempted to bring peace to the country.
The LNA is working to "liberate the country from terrorism", he said, going on to announce the "fall of the political agreement, which has destroyed the country and led it to the abyss". The Libyan people have authorised the military command to
"We announce that the General Command of the Armed Forces accepts the will of the people despite the burden of that trust multiplicity of the obligations and the magnitude of responsibilities … we shall always remain at the disposal of the Libyan people and will not spare any effort to stop their suffering."
The LNA shall continue to press on with its actions with the "march of liberation until full success is achieved", he said.
Haftar's declaration "reduces the chance of a peaceable solution to the civil war", Verisk Maplecroft's MENA analyst Hamish Kinnear wrote in a note.
It is unclear to what extent the House of Representatives (HoR) backs the LNA and Haftar's rejection of the 2015 agreement. Kinnear said the HoR has had "no meaningful independence" since the LNA completed its takeover of Benghazi in 2017.
Haftar's move comes as military pressure mounts on both sides, between the LNA and the Government of National Accord (GNA), which is based in Tripoli.
Accusations surfaced last week that the LNA had used chemical weapons. The LNA rejected this allegation, saying the GNA had put forward this idea in order to disguise their use of Turkish air forces.
Libya's representative to the UN Taher El-Sonni said on Twitter that Haftar's move was an "old school coup" who was in violation of Security Council resolutions.
The LNA seized control of the oil crescent in 2017 and handed ownership to the National Oil Corp. (NOC). Revenues flow through NOC and are distributed by authorities in Tripoli, which has led to the unusual situation where wages are being paid to those besieging the city.
The HoR and LNA have complained that revenues have not been distributed fairly.
Verisk Maplecroft's Kinnear noted that critical to the 2015 agreement was the acceptance by the HoR of the GNA as the legitimate government of Libya.
The recently appointed head of the UN Support Mission in Libya (UNSMIL) Stephanie Williams met the president of the HoR Aguila Saleh yesterday. Saleh has recently set out a plan for a political solution, which Williams welcomed.
Haftar's move makes him "central to any negotiated solution", Kinnear said, noting that it reduces the ability of other GNA figures, such as Saleh, to seek a deal with the GNA.
Recommended for you

Tripoli takes Greece to task over minister who wouldn't budge