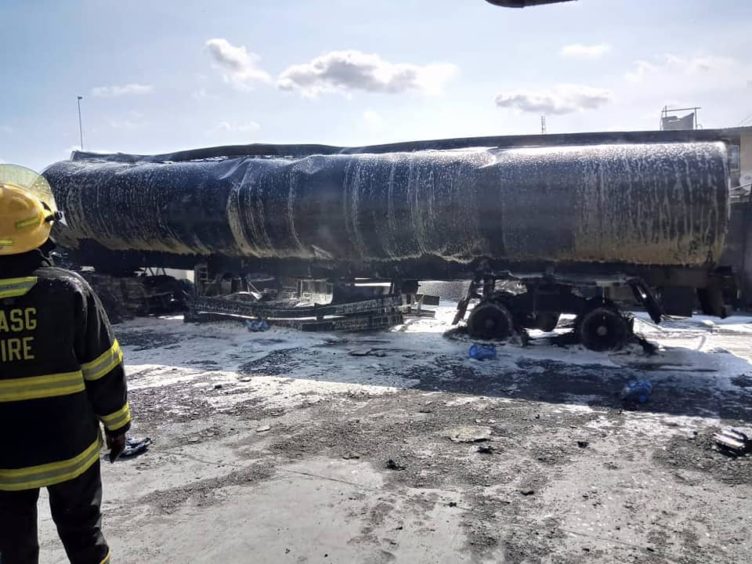 A fire at a retail station in Lagos destroyed around 30 vehicles, the Lagos State Emergency Management Agency (LASEMA) has reported.
The fire was caused when a tanker, carrying 33,000 litres of diesel, was discharging its load into an underground tank at the Nigerian National Petroleum Corp. (NNPC) station. The tanker was destroyed in the accident, although no cause was identified for the ignition by LASEMA.
Fire broke out at 1:10 pm on April 27, NNPC's retail subsidiary noted. The Taibod Petroleum fuel station is at College Road, Yaya Abatan in Ogba.
NNPC reiterated LASEMA's take on the cause of the fire as coming from one of the underground tanks. NNPC said the tanker was not discharging.
LASEMA's Tiger Squad tackled the blaze, in co-operation with the Lagos State Fire Service. No lives were reported to have been lost.
According to the Lagos Fire Service, the first step in controlling the situation was "managing the helpful but wild crowd".
It went on to attribute the fire to the diesel-carrying tanker, which belonged to Lado Oil and Gas.
BREAKING: NNPC Ogba, Ifako road is on 🔥. @LAG_FireServicepic.twitter.com/23TkckN64I

— Ayemojubar (@ayemojubar) April 27, 2020
The head of LASEMA Olufemi Oke-Osanyintolu called for retail stations to have at least one fire hydrant installed, in order to allow faster responses in case of fire.
LASEMA has continued to tackle problems emerging around Lagos even while the city – and state – remain under lockdown in a bid to tackle the spread of coronavirus.
On April 21, for instance, it reported efforts to secure a tanker that had fallen over, spilling its contents on the Ogun State boundary. The tanker had been carrying 45,000 litres of gasoline when it was involved in an accident and began leaking profusely.