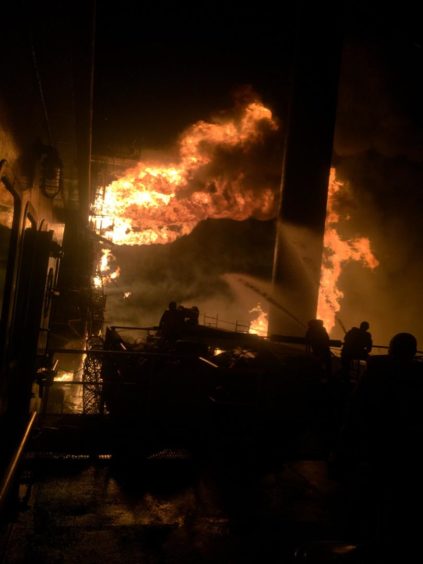 Nigeria's Guarantee Petroleum has contracted Halliburton and Chevron Nigeria Ltd (CNL) to tackle a rig fire on the Ororo marginal field, on OML 95.
A statement from Nigeria's National Oil Spill Detection & Response Agency (NOSDRA) cited a similar incident that took place in 2019 that took eight weeks to extinguish. As such, the agency said it would "take at least six weeks [at] the earliest" for the OML 95 fire to be put out.
Chevron was the operator at the fire in 2019, NOSDRA noted. The fire began on May 16 in the shallow waters offshore Ondo State and a joint investigation was launched on May 17.
According to some local reports, a hydraulic workover rig is burning.
The agency said no casualties had been reported from the fire. NOSDRA was responding to a social media post from claiming that workers had been evacuated to hospital and that a spill was polluting the waters of the Niger Delta.
The NDC can confirm that on Saturday 16th May, 2020, an explosion occurred on the Belaton well servicing badge, working on Ororo well 1 which is operated by Sirius Petroleum.

While workers have been evacuated to hospitals, the spill continues to pollute the Niger Delta waters. pic.twitter.com/hcJrf0q6dd

— Niger Delta Congress (@ND_Congress) May 17, 2020
Guarantee Petroleum has a 55% stake in OML 95's Ororo field, while Owena Oil & Gas has 45%. Chevron drilled a well making the Ororo discovery in 1986.
Sirius Petroleum reached a deal for a 40% economic interest in the Ororo marginal field in August 2017, leaving Owena with 27% and Guarantee with 33%, under a joint operating agreement.
Sirius was listed on London's Alternative Investment Market (AIM) but delisted in 2019. The company planned to drill the Ororo 2 well but was unable to.
Sirius said it was "not involved with this very unfortunate situation. Sirius has no role in the licence in respect of OML 95 which expired in May 2019 and has yet to be renewed by the regulator."
None of Shelf Drilling's rigs were involved in the Ororo field, the company has said.
Guarantee has not responded to a request for comment.
Updated on May 20 at 3:57 pm with comment from Sirius. 
Click here to take part in our reader panel for a chance to win £50
Recommended for you
X

'Big win' as Shell urged by more shareholder activists to meet climate targets