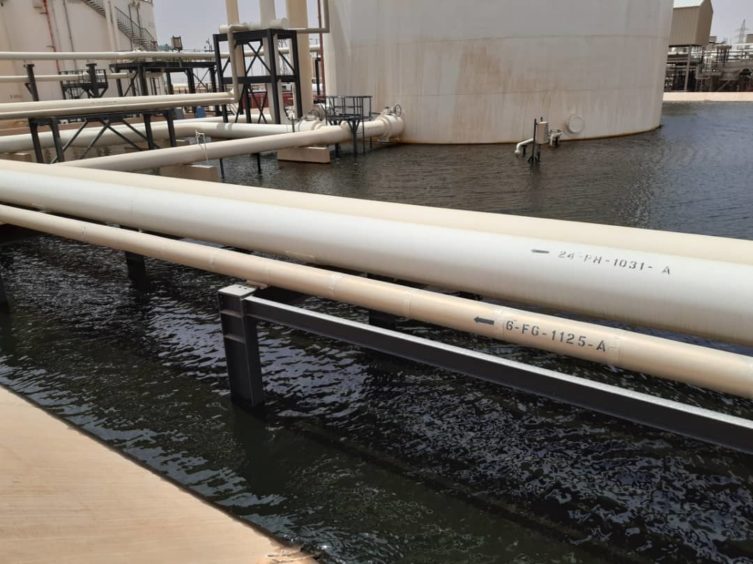 An armed militia in Libya has prevented maintenance work from being carried out on the Sharara field.
State-owned National Oil Corp. (NOC) said the militia was commanded by Abdelkarim Alrouni. This group prevented maintenance teams from NOC's Akakus Oil Operations from opening the al-Hamada valve, which had been due to move chemicals in order to prevent corrosion from occurring in the transfer line.
The trouble comes as NOC has shown signs of restarting the southern fields – Sharara and El Feel – following a military reversal that has the seen the Libyan National Army (LNA) suffer some major losses. Verisk Maplecroft has forecast the field is likely to start producing once more by the end of July.
NOC said there were already signs of technical problems emerging, with the corrosion and collapse of tanks and a gas oil separation plant (GOSP), holding 16,000 barrels at Sharara. The company said a "pond of crude oil" had formed at the tanks.
Following the discovery of the crude, NOC and Akakus decided to check pipelines and valves in order to drain the tanks and begin repairs.
However, on May 30, the militia that controls the area prevented the maintenance team from carrying out its work, despite the environmental damage.
NOC said it had filed its concerns with the Office of the Attorney General on the blockade, asking for an investigation. Disrupting maintenance plans causes problems for NOC in its aims to preserve its facilities and the future resumption of production.
The company called on the people of Zintan to think of the greater interest, for the country, and reveal those that committed crimes, in order to arrest and prosecute them.
The closure of ports and pipelines has caused losses for Libya of $5.03 billion, NOC said. This money could have gone to fighting coronavirus, paying salaries, maintaining schools and infrastructure, it said.
Akakus has two concessions in the Sahara Desert, NC-115 and NC-186, home of the Sharara field. Oil is piped from the fields to the Zawiya terminal, on the Mediterranean coast, around 45 km west of Tripoli.
NOC had shown signs of preparing for restarting exports from these southern fields. On May 28, the company said it intended to sell condensate held in storage at Zawiya, potentially to provide space for production from Sharara and El Feel.
A report from Verisk Maplecroft said Sharara was likely to reopen by the end of July, as the LNA's authority in western Libya crumbles. The consultancy said local militias were in talks with NOC, in a demonstration of the reduced power of the LNA, giving the chance of reopening the field at 68%.
Updated at 3:39 pm with Verisk Maplecroft forecast on Sharara's resumption. 
Recommended for you

Repsol nears exploration drilling in Libya