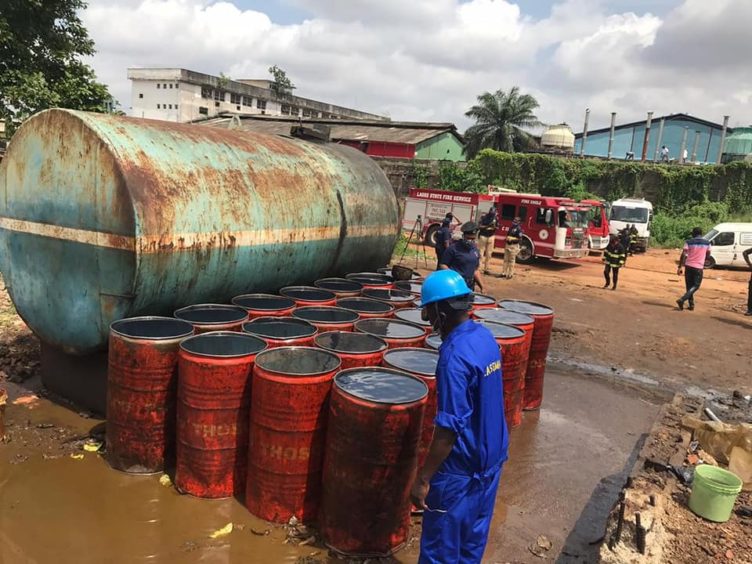 The Lagos State Emergency Management Agency (LASEMA) has put out a fire at an illicit fuel storage depot at Oregun.
The agency, working with various agencies such as the Lagos State Fire Service and the anti-vandal unit at the Nigerian National Petroleum Corp. (NNPC) responded to the fire.
The site stored and handle diesel, the agency said. The business seems to have been going for some years.
The site held a number of containers and tankers, in addition to six buses. These were used for the storage and transportation of diesel, the agency said. Nigeria Security and Civil Defence Corps (NSCDC) has taken control of the premises.
LASEMA called on residents to "take responsibility" for life and property and report such businesses to the authorities.
An NSCDC official told the News Agency of Nigeria (NAN) that it had arrested six people at the Oregun site. Around 18,000 litres of fuel were seized.
Deregulation
Nigeria is moving towards deregulation in its fuel sector, but the Petroleum Products Pricing Regulatory Agency (PPPRA) continues to set price bands. The products agency increased the petrol price band for July to 143.8 naira ($0.37) per litre, from 121.5 naira ($0.31) per litre in June.
Nigerian Minister of State for Petroleum Resources Timipre Sylva defended the use of price bands for petrol in a recent interview.
"Diesel was deregulated a long time ago. Before then, it always was cheaper than petrol, but today it has hit the roof. If we allow it, petrol will also get to that level," he said on Arise TV.
Deregulation, he continued, meant the government was "out of the business of supplying petrol products".
Sylva also said that small refineries will not be the answer to the country's downstream problems. Such plants do not tend to have catalytic cracking units so do not produce lighter products such as petrol. Instead they turn out diesel and heavier products.
Nigeria's refineries have long under performed. Sylva said that one of the country's refineries had not been functioning for three years, but salaries continued to be paid.
"Nobody can sack anybody. People are getting promoted, but the refineries are not functioning. Unions will not let you. Those are the real issues," Sylva said.
"The unions, their members, were the ones managing the refineries. Yes, I know government is to blame. I am not absolving government completely, but they themselves are part of the blame game. They were managing it."
Job cuts
The Nigeria Union of Petroleum and Natural Gas Workers (NUPENG) did not take kindly to Sylva's remarks. A statement said the government had failed to take action and ignored the union's suggestions of changing to the Nigeria LNG (NLNG) model, in which private companies would be brought in.
Furthermore, the union said, NNPC had already sacked 850 workers.