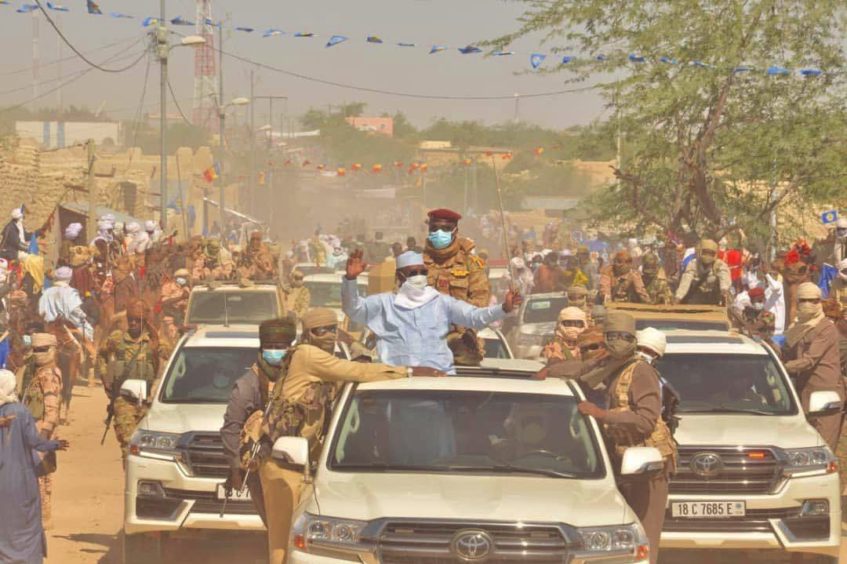 Chadian President Idriss Deby has died while visiting fighting according to reports, coinciding with his re-election.
A military spokesman read a statement on Chadian TV saying Deby had been killed. General Azem Bermandoa Agouna, speaking this morning, said the president had died "defending the sovereign nation on the battlefield".
General Mahamat Kaka, Deby's son, will act as interim president, the statement said. The president appointed family members to important positions around him. His son led the presidential guard, the Direction générale des services de sécurité des institutions de l'Etat (DGSSIE).
The French embassy repeated the announcement of Deby's death, which it said followed fighting in Kanem. "The French Embassy offers its condolences to the Chadian people."
The capital is calm, the embassy said. It warned that travel should be limited "to what is strictly necessary".
Nathaniel Powell, the author of France's wars in Chad, commented that the appointment of Deby's son was a demonstration of continuity.
But this signals pure regime continuity, and will certainly reassure Chad's international partners–especially France–that they can continue to rely on Chad as a pillar for their regional security policy.

— Nathaniel Powell (@natkpowell) April 20, 2021
Chad held its presidential election on April 11. On April 19, provisional results suggested Deby would win, with 79.3% of the vote.
Rebels attacked a border outpost on April 11.
Travel warnings
The US and UK have warned citizens against travel in Chad. Noting reports of Deby's death, the US has called for its citizens to shelter in place.
The US embassy ordered non-essential employees to leave on April 17. The embassy in N'Djamena had warned of an increase in civil unrest and armed violence.
Armed groups from the north were moving towards the capital, it said. This raised the possibility of violence in the city.
The UK's Foreign, Commonwealth & Development Office (FCDO) advised its nationals to leave the country as soon as possible, on April 18. The UK has withdrawn all diplomatic staff.
The FCDO said this was in response to a rebel convoy apparently headed towards the capital. A group from Libya, Le front pour l'alternance et la concorde au Tchad (FACT), entered Chad on April 11.
In an update today, the UK reported a curfew had been imposed between 6 pm and 5 am. Chad has shut its borders, it said.
FACT attack
The FACT convoy passed the town of Faya on April 17, around 400 km from the Libyan border. Another FACT convoy was approaching the town of Mao, the FCDO said. Mao is around 280 km north of N'Djamena.
The UK advice had said the official presidential election result was not due until April 25.
FACT issued a statement saying its assault on N'Djamena had been disrupted on April 17 but it was back on track the following day.
The rebel group claimed to have killed a number of high-ranking Chadian DGSSIE officials. Fighting had led to Deby sustaining injuries, it said, and he had fled back to the capital.
Toubou Media, which has links to FACT, reported that Deby had been leading an armed column and that he had been injured. It went on to claim the military had abandoned Mao.
FACT has been involved in Libya's civil war, with links to the Misrata militia and opposed to the Libyan National Army (LNA).
The French government's Operation Barkhane is based in N'Djamena. There have been some reports that French air forces attacked FACT convoys.
France has expressed concern at the movement of rebel groups, which it said had the "express purpose of seizing power. France is closely monitoring developments in the situation and strongly condemns any attempt to seize power by force."
Updated at 3:35 pm with US and UK consular advice and "continuity" message from Nathaniel Powell.