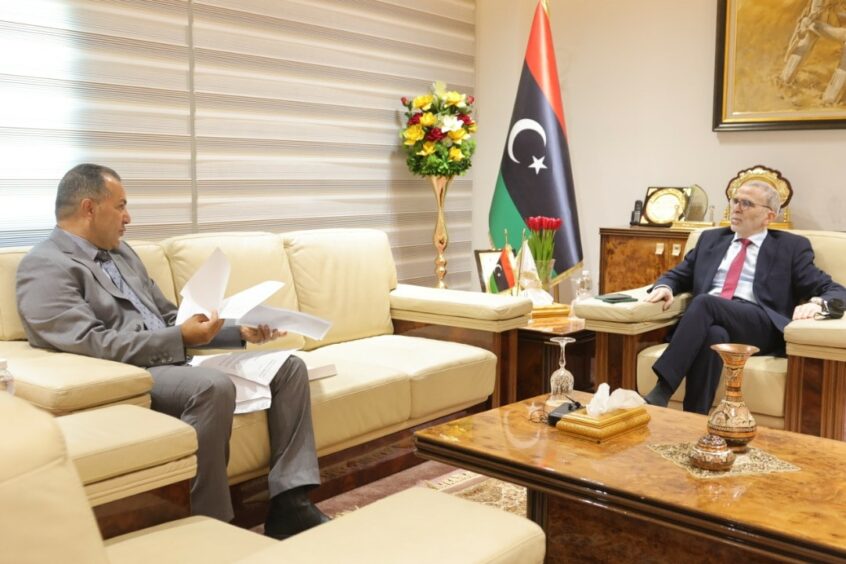 Libya's National Oil Corp. (NOC) reassured Schlumberger on September 12 that there was a plan to pay down debts.
NOC chairman Mustafa Sanalla held talks with Schlumberger Libya's general manager Mustafa Ajaj in Tripoli.
Libya's NOC acknowledged that the most important topic of discussion was the debts owed by it to Schlumberger. Sanalla said these were not unrecoverable.
Prime Minister Abdul Hamid Dbeibeh has given NOC assurances that its budget will be paid. Once this occurs, Sanalla said, NOC would pay its debts immediately.
The NOC chairman went on to say Schlumberger was a partner in the production process. He expressed gratitude for the service company's acceptance of the "unusual circumstances".
NOC has expressed concerns before about its inability to meet its obligations.
In late August, Arabian Gulf Oil Co. (Agoco) said it was on the verge of shutting down operations because it could not pay its bills. The government had not met its 2020 or 2021 budgetary commitments, the NOC unit said.
The budget has become a point of political conflict. Discussions on the 2021 budget have been ongoing for some time but the parliament has still passed it.
The head of the United Nations Support Mission in Libya (UNSMIL), Ján Kubiš, highlighted this problem in a speech on September 10.
Budget bust up
The House of Representatives (HoR) is yet to approve the budget, he noted, which is of "critical importance" to allow the Government of National Unity (GNU) "to improve the delivery of services and assistance to the people equitably throughout Libya. The GNU continues to operate on the basis of monthly allotments, released by the Central Bank. I call on the HoR to expedite approving a unified budget."
Kubiš went on to say there had been a number of calls from the HoR to question the GNU and suggestions of a vote of no confidence.
The UN official warned that "attempts to change the interim executive so close to the election date only create more uncertainty about the elections and problems in preparing and securing the election. It is the elections that will give an opportunity to Libyans to validate their government, presidency, and parliament."
Libya is due to hold elections on December 24 this year. There is some uncertainty over whether it will be able to achieve this feat.
The HoR held talks with Prime Minister Dbeibeh and various ministers on September 8, he reported.
Schlumberger, for its part, appeared to remain committed to operations in Libya. The NOC statement noted the service company's provision of ambulances in various provinces.
Furthermore, Schlumberger is due to open a facility at the Bright Star university, in Brega, next week, Ajaj said.
The service company won work in the fourth quarter of 2020 for a 100-well project from Agoco. It also carried out work last year installing electric submersible pumps (ESPs) on 24 wells for Sirte Oil Co., increasing output by 20,000 barrels per day.
Recommended for you

NOC calls for IOCs to lift force majeure