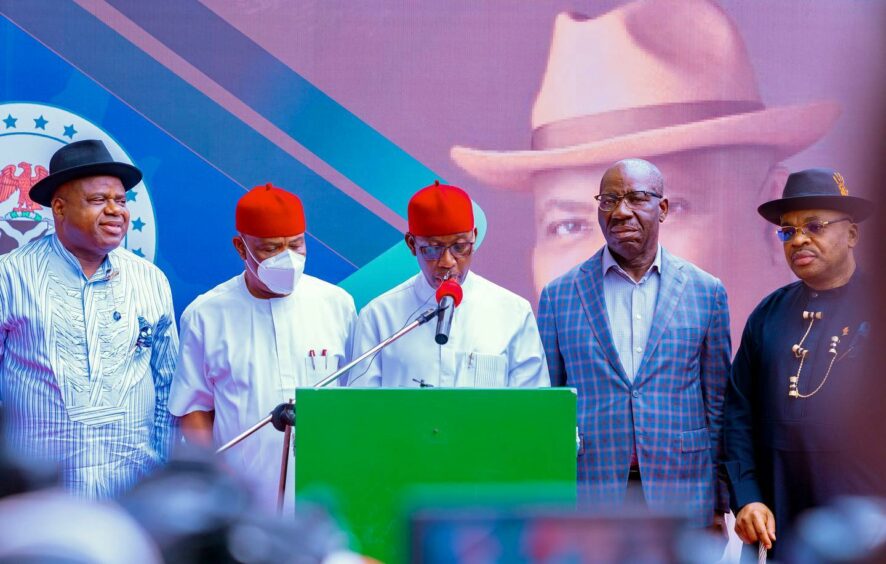 A number of Nigerian governors have called for the federal government to revisit the Petroleum Industry Act (PIA).
The governors of Bayelsa, Rivers, Delta, Edo and Akwa Ibom agreed to the issue of six demands.
The statement called for an amendment to the PIA on the issue of profit shares. An amendment should also include a "clear definition of host community and that the trustees should be appointed by State Governments", it said.
Delta State Governor Ifeanyi Okowa said the PIA should be reviewed in order "to address the legitimate concerns of host communities".
The meeting also made a number of other points, including that the government publish the results of the Niger Delta Development Commission (NDDC) audit.
The federal government should go on to establish a board for NDDC in line with the laws, the statement said. This would allow the agency to meet its regional obligations.
Furthermore, Nigerian National Petroleum Corp. (NNPC) and international companies should move headquarters to the Niger Delta, it said.
VAT spat
Okowa said the governors had given their "unequivocal support" to assert that states had the right to collect VAT.
Lagos and Rivers states passed laws in September claiming their right to collect VAT. A court in Port Harcourt had ruled in August that it was unconstitutional for the Federal Inland Revenue Service (FIRS) to collect this and then distribute the proceeds.
Some northern states have voiced the approval of FIRS continuing to collect the tax.
Cross River Governor Ben Ayade did not attend the south-south meeting. Ayade left the People's Democratic Party (PDP) for the ruling All Progressives Congress (APC) in May.
The South-South Governors also agreed to launch a regional security plan.
The Pan Niger Delta Forum (PANDEF) endorsed the demands from the governors. Commenting on the request for relocation, the group said it was "baffling that the federal government has remained indifferent to this just demand of the Niger Delta people". This denied "the region plausible benefits, while, the paradoxical realities, arising from the industry, remain glaring in the region".
Recommended for you

The Tinubu presidency and Nigeria's energy challenges