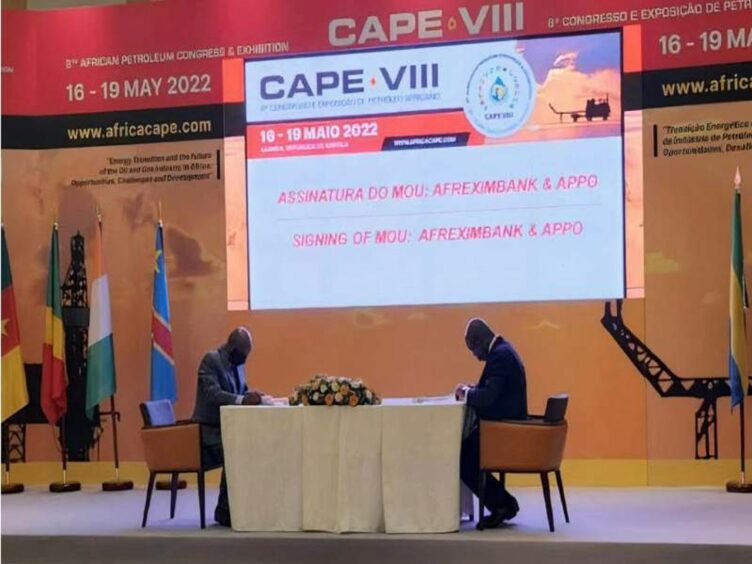 Afreximbank has signed a memorandum of understanding (MoU) with the African Petroleum Producers Organization (APPO), with the dream of creating an energy bank.
The organisations signed the agreement at the ongoing CAPE VIII – 8th African Petroleum Congress and Exhibition in Luanda.
A statement from Afreximbank said the African Energy Transition Bank came in response to the tougher outlook for trade and project financing. The plan "acknowledges the impact of climate change", it said, and acknowledges that poverty drives environmental degradation – as people burn trees for cooking, for instance.
The plan would support an "Africa-led energy transition strategy", Afreximbank said. This would be "consistent with the goal of preserving the environment and livelihoods".
The "multi-billion dollar" bank would aim to support new and existing oil and gas projects, Energy Capital & Power (ECP) said.
Afreximbank director Rene Awambeng signed the MoU with APPO Secretary General Omar Farouk. Angolan President João Lourenço oversaw the ceremony, while African Energy Chamber chairman NJ Ayuk also attended.
Opening the conference, Lourenço had said oil and gas would "continue to play a prominent role in the global and African economy for decades to come", despite decarbonisation pressures.
Unlike Afreximbank, ECP focused more on the role of hydrocarbons in delivering reliable energy to the people of Africa. Global investors, ECP said, are leaving the continent. As a result, Africa lacks "the investment it needs if it is to capitalise on its resources".
Catalyst plans
The bank would not substitute private investment, but it would aim to catalyse investments into Africa.
The African Energy Chamber has been talking about these plans for some time, Ayuk said. "I am proud to announce that the Afreximbank and APPO have taken the first steps towards its creation," said Ayuk.
"This is a practical strategy for prosperity and a pragmatic vision that must be embraced by all who want to make energy poverty history and fight climate change," he continued. "Why should our pension funds go to European banks who say they will not finance Africans and call us risky? We need to use that money to finance oil and gas."
Recommended for you

Equatorial Guinea sets out Zafiro, gas hub plans