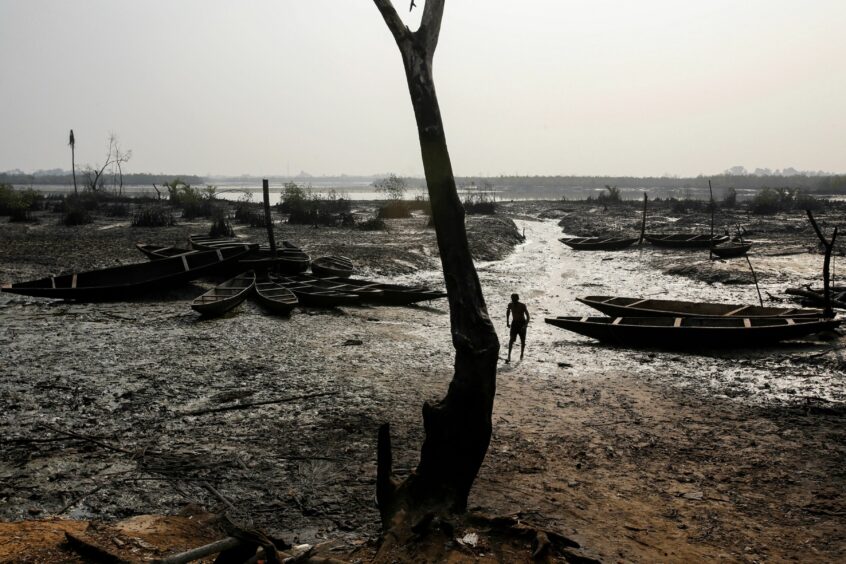 After years of stop-and-go litigation, Nigeria could be on the hook for a debilitating $11-billion payout if a trial starting this week in a London court doesn't go its way.
The Nigerian government will urge the UK high court to stop the hedge fund-backed firm Process & Industrial Development Ltd. from collecting a massive arbitration award that was handed down in 2017 following a failed — and allegedly fraudulent — gas deal. That amount equals almost a third of Nigeria's forex reserves, and its payout would deal a huge blow to Africa's largest economy, which is still recovering from a pandemic-induced recession.
The case centers on a 2010 deal between the Nigerian government and P&ID, a British Virgin Islands-registered firm controlled by three little-known Irish businessmen. The state agreed to provide free gas for 20 years to a facility P&ID would build in exchange for processed gas that would be used for electricity generation. The deal would allow the company to sell the leftover products and the country to boost its power supply.
According to P&ID, the firm never built the planned refinery because the Nigerian government failed to tap its natural gas. Nigeria claims that the deal came about through bribes to former government officials, and that the award should be overturned.
In 2012, P&ID initiated arbitration, claiming that attempts to resolve the issue privately had failed.
Five years later, a closed-door arbitration court in the UK ordered the West African country to pay $6.6 billion to the firm to compensate for lost profits — an amount has since swelled to over $11 billion with interest. P&ID has no other known assets.
Within a year of the arbitration ruling, the hedge fund VR Capital Group Ltd. took a stake in P&ID, which continued pressuring Nigeria to make the payment. In 2019, the stakes rose again when a UK judge issued an order enforcing the award.
The trial, among the biggest in UK history in terms of the amount of money involved, is scheduled to continue until March. Nigeria will elect a new president on Feb. 25.
Dirty Money
For its part, Nigeria's government has alleged that P&ID bribed previous administration officials to secure the gas contract, and colluded with former government lawyers and officials to mount a "sham defense" when the matter landed in court. With a different political party now in power, Nigerian law enforcement agencies are investigating allegations of bribery surrounding the 2010 gas contract and subsequent arbitration.
Nigeria alleges bank records indicate that four government officials or their family members received bribes from P&ID before the contract was signed, and that one of them has admitted to overlooking "obvious deficiencies" in the company's proposal. The country's anti-corruption agency has also charged the lawyer that represented the state during the arbitration for allegedly bribing public officials involved in the proceedings.
In earlier hearings, P&ID denied all allegations and characterized the Nigerian government's claims of fraud — made almost three years after the arbitration ruling — as an attempt to dodge liability. "P&ID vigorously denies that the awards in its favor should be set aside," a spokesperson told Bloomberg.
In response to a request for comment, a representative of VR Capital stated, "P&ID won its arbitral award in 2017, two years prior to VR Capital's acquisition of a stake in the company. P&ID will be providing its full defense at next week's trial, which we are confident will debunk Nigeria's unfounded allegations."
A government spokesperson told Bloomberg, "the Federal Republic of Nigeria keenly awaits the opportunity to present its case before the High Court in London and is confident that justice will finally be served."
The trial this week comes in the wake of a London court's decision to allow the Nigerian government to dispute the arbitration ruling.
UK high court judge Ross Cranston said in a 2020 ruling that he believed there was a strong case to be made that "the gas processing contract was procured by bribes paid to insiders as part of a larger scheme to defraud Nigeria."
If Nigeria loses in London, the incoming president will have to make the crucial decision of whether to re-enter settlement talks with P&ID, or continue claiming fraud.
The company has said it will seek authorization to seize the state's overseas assets, and liability from an unresolved payment could make it more expensive for Nigeria to raise money in international capital markets.
The trial comes at an economically vulnerable moment for Africa's largest oil producer. During the first 11 months of last year, Nigeria's government spent 80% of its income on servicing debt as oil production declined and spending rose on fuel subsidies. The country was also downgraded by Fitch Ratings and Moody's Investors Service, sending its credit ratings deeper into junk territory.
Whatever the trial's outcome, it likely won't be final — the high court's decision can be further challenged in the UK Court of Appeal, and ultimately, the Supreme Court.
Recommended for you

Nigeria withdraws $1bn claim against Eni on oil field deal