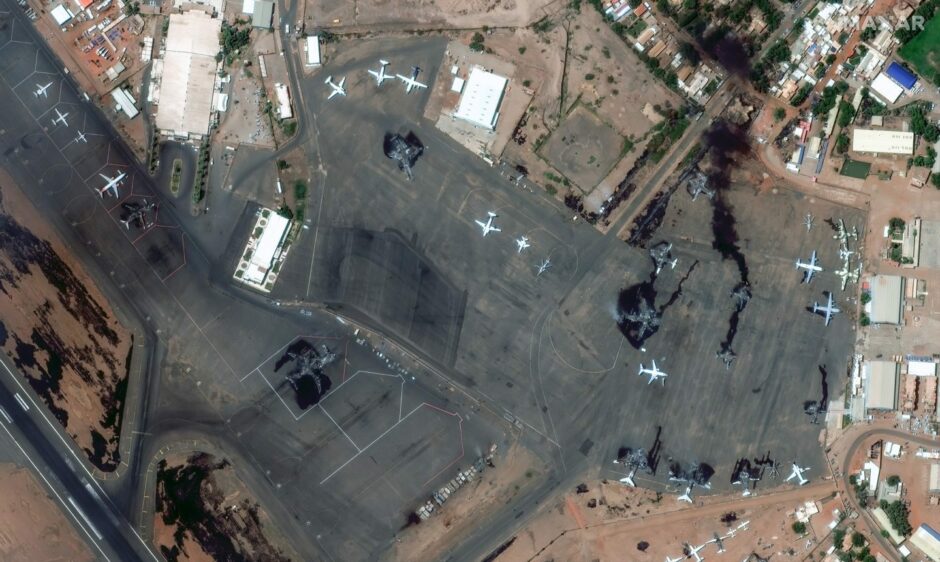 The UK has begun evacuating its citizens from Sudan, following criticism that previous efforts focused on diplomatic staff alone.
The government has said RAF flights will take British citizens from airfields near Khartoum, leaving today. Diplomats from the Foreign, Commonwealth and Development Office (FCDO) will support.
The flights will be available to those with British passports. Families with children, the elderly and people with medical conditions will receive priority.
British nationals in Sudan should not head to the evacuation site until they are notified, the FCDO said. Government estimates there are around 2,000 British citizens in Sudan, while including those with British passports increases the number to around 4,000.
"The safety of all British nationals in Sudan continues to be our utmost priority and we urge everyone to continue to follow our travel advice. The situation remains volatile and our ability to conduct evacuations could change at short notice," it warned.
The UK is working with international partners to support the departure plans. Other plans are also under consideration, including on alternative points to leave the country.
One option cited has been for naval forces to deploy at Port Sudan. Two Royal Navy ships are in the area and could be at the port in two to three days. There is no official word on this as yet.
Minister for International Development and Africa Andrew Mitchell, speaking in the House of Commons yesterday, said fighting had killed 427 people and injured more than 3,700.
Extreme danger
"Movement around the capital remains extremely dangerous and no evacuation option comes without grave risk to life. Khartoum airport is out of action. Energy supplies are disrupted. Food and water are becoming increasingly scarce. Internet and telephone networks are becoming difficult to access," said Mitchell.
Facing questions in Parliament, Mitchell said that France's efforts to evacuate its people "they were shot at as they came out through the embassy gateway, and I understand that a member of their special forces is gravely ill".
The minister said the decision to evacuate the British embassy had been taken because of the extreme danger to staff. "Fighting was taking place on both sides of the embassy, which was why the Government decided that it was essential to bring them out," Mitchell said.
A number of foreigners have come under fire in fighting. The minister noted Turkey had established three muster points, and that two had been shot at.
While attempts are under way to secure a ceasefire, it has not yet held. The Rapid Support Forces (RSF) reported this morning that it had come under fire from Sudanese Armed Forces (SAF) in Khartoum.
Recommended for you

North Sea oil worker survives mortar attack and flees Sudan amidst fighting