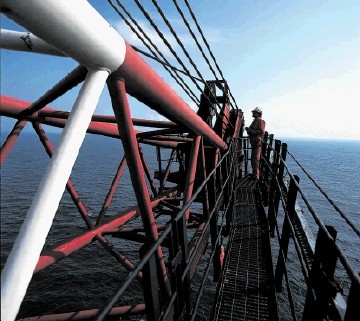 US explorer Vaalco has altered its drilling and workover programme offshore Gabon in the Etame Marin block after adverse weather forced it to reschedule.
The company has previously reported that strong results from the initial North Tchibala field development well would allow it to mobilize the Transocean Constellation II jackup rig to the Avouma/South Tchibala field to conduct workover operations on three existing development wells, two of which are currently off production.
Adverse sea state conditions prevented Vaalco from moving the rig to Avouma/South Tchibala.
Rather than wait for a change in sea state conditions and incur the expense of idle/standby rig time Vaalco re-sequenced the drilling and workover program and proceeded with the drilling and completion of the North Tchibala 2-H well, designed to develop oil production from the deeper Dentale D18-19 formation.
The company said drilling operations are currently proceeding on time and on budget with the expectation that the well will be drilled to a depth of approximately 16,000 feet and will be finalised in November.
Historic weather patterns suggest that conditions will be improving in the time-frame in which the rig will next require mobilisation.
Additionally, the annual five-day shutdown of the Etame Marin block to allow the owner of the FPSO to perform maintenance operations that would have occurred this fall has been postponed until the first quarter of 2016