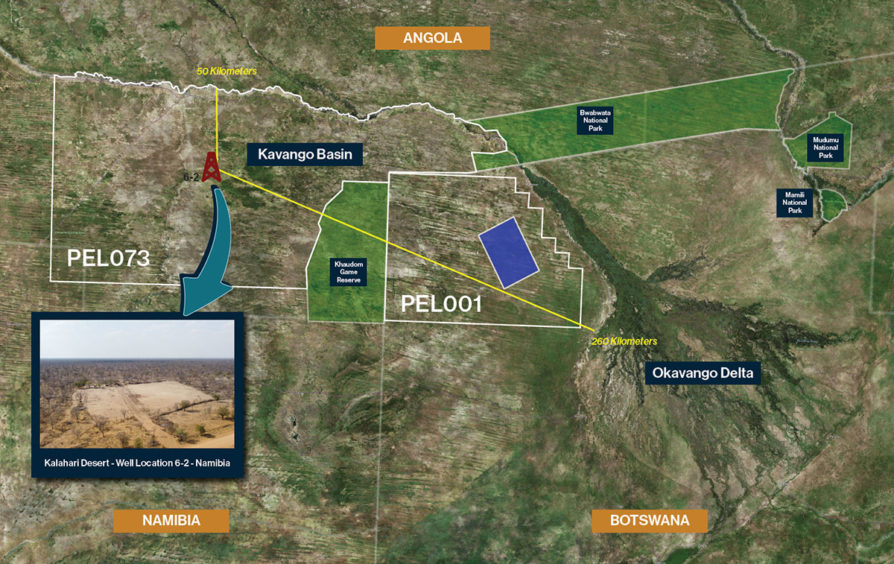 Canada's Reconnaissance Energy Africa has found further evidence of a working petroleum system in the Kavango Basin, in the first section of its second well.
The company began drilling on May 5 at the 6-1 well. It has reported a discovery at its first well, 6-2. However, it provided few details on pay or depth.
ReconAfrica said it had reached the intermediate casing point and completed the cementing operation.
Its initial analysis of the first section showed 134 metres of light oil and gas shows from the 6-1 well. It said these were similar to the first well, which is 16 km to the south. The company drilled both wells in the same sub-basin.
"In these first two wells, the many oil and gas shows, with such variety, is certainly remarkable. It is highly encouraging to see clastic and thick carbonate sections which appear to have similar reservoir characteristics as observed in many other petroleum provinces," said ReconAfrica director Jim Granath.
It expects to complete drilling on the 6-1 well by the end of June.
Schlumberger, Geomark Research and Netherland Sewell and Associates are involved in analysis of the results. ReconAfrica said it had signed up "additional scientific analysis", which includes taking natural gas samples.
It took more than 150 sidewall cores from the 6-2 well, the first. Core Labs is carrying out analysis of these.
The first section of the second well has provided 37 sidewall cores. The company is sending these to Core Labs, with the aim of completing analysis on both wells by the end of July.
ReconAfrica's initial plan was for three wells. It is also carrying out a 450 km 2D seismic survey, which it started in January.
Some scepticism was expressed by Matt Totten, a former BP geologist, in comments provided by environmental groups.
"Until local and independent subject matter experts weigh in on Recon's interpretation of a discovery — not just their hired service vendors like Schlumberger, Geomark Research and Netherland Sewell & Associates — it's suspiciously premature to claim a working petroleum system and basin discovery to the world," Totten said.
"ReconAfrica didn't even disclose the age of the rocks they claimed shows in or the depths of their wells, so I think investors, government officials and the Namibian public should be weary of news that sounds too good to be true without any public-facing evidence to back it up."
ESG plans
ReconAfrica also highlighted its ESG progress in the Kavango region, announcing a commitment of C$10 million ($8.3mn).
The company's CEO Scot Evans said the goal was "to not only meet, but exceed regulatory compliance as we continue to implement measures to protect the environment, implement a net-zero carbon program and enhance the livelihoods of the people of Namibia".
ReconAfrica plans to track and measure ESG indicators, it said. This will involve feedback from "a range of Namibian, Botswanan and international stakeholders and ESG experts".
The company has faced scrutiny on a number of fronts.
Updated on June 4 at 9:49 am with comment from Matt Totten.
Recommended for you

Namcor to swap licence stake for ReconAfrica equity