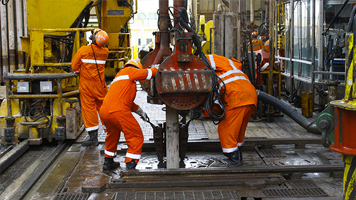 Eni has discovered a more resources in Egypt's Western Desert, in keeping with its plans to deliver production to market quickly.
The company drilled the Jasmine W-1X and MWD-21 wells on the Meleiha lease, and the SWM-4X well on the South West Meleiha exploration concession.
The Jasmine W-1X found 113 feet of net pay in the Jurassic sandstones. It flowed at 2,000 barrels per day and 7 million cubic feet per day of associated gas.
The Jasmine MWD-21 found 51 feet of pay in the Cretaceous sandstones. Eni has already tied this into production, with a rate of 2,500 bpd.
The SWM-4X well found 36 feet of net pay in Cretaceous sandstones. The company reported an initial flow rate of 1,800 bpd and 0.3 mmcf per day of gas. This well is 35 km south of the Meleiha facility, Eni said.
These three discoveries have resources of 50 million barrels of oil equivalent, Eni said. They provide more than 6,000 boepd to Eni's gross production, it said.
Agiba arise
There is scope for more appraisal and production wells. Eni is planning these in order to sustain production at Agiba. This is Eni's joint venture with Egyptian General Petroleum Corp. (EGPC).
Eni's IEOC holds a 76% stake in the contractor participating interest of Meleiha, while Lukoil has the remaining 24%. IEOC holds the entirety of the participating interest in South West Meleiha.
In December 2020, Eni reported its equity production in Egypt was 320,000 boepd. It has risen to 360,000 boepd.
The Italian company struck a deal to merge the Meleiha and Meleiha Deep concessions in June this year. The licence runs until 2036, with the option to extend this to 2041.
It has continued discovering new resources in the area. In 2020, Eni reported success at the SWM-A-6X, on South West Meleiha. The well began producing at 5,000 bpd, while the concession was producing 12,000 bpd.
The company then announced another discovery in Meleiha at the end of the year, which produced at 5,500 bpd. It followed this with two appraisals, bringing new production to 10,000 bpd.