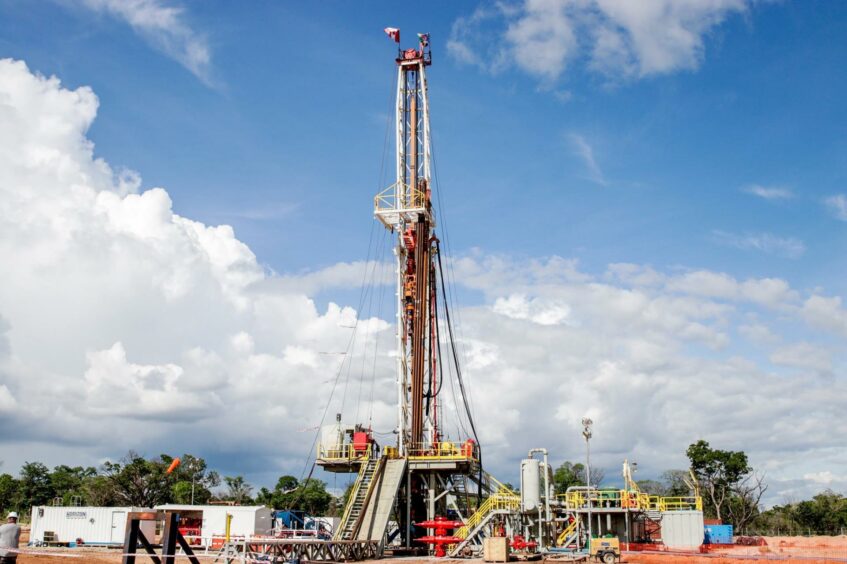 Reconnaissance Energy Africa and Invictus Energy are both nearing drilling, as they seek to prove up onshore hopes around Namibia and Zimbabwe respectively.
First up, ReconAfrica aims to launch its programme within two to four weeks. "It's been a less than exciting nine months," the company's head of capital markets Grayson Andersen said, on the sidelines of the Africa Energies Summit.
During drilling, ReconAfrica's share price boomed. Following the conclusion of the second well last year, though, investors have been left wanting more.
"We've almost completed our second phase of seismic," Andersen said. "We've got a lot of things to choose from."
It plans to drill three or four wells this year. Three of the wells will be based on the seismic shoot. The presentation highlighted four prospects, numbered 33, 32, 23 and 2-7.
"We're also looking at drilling a sidetrack off the 6-2 well we drilled last year," Andersen said.
Since ReconAfrica's successes last year, Shell and TotalEnergies have drilled two seemingly major discoveries offshore the country.
"Namibia is the most exciting place on the planet for exploration," the company official told conference attendees. ReconAfrica hopes to "replicate the success [of Shell and Total] onshore. Onshore has a shorter cycle time, it's more scalable, it's lower cost to first development. It's different but we believe equally exciting."
Finding support
For the time being, ReconAfrica is content to finance its own way. It has about $75mn in cash, with Andersen putting well costs at $10mn.
Furthermore, should the wells be successful, warrants could be exercised providing "anywhere from $70 to $140mn", he said.
In the longer term, though, it will bring in a partner. The company aims to open a data room this year. It has been in "preliminary talks" with potential partners.
"It's a matter of getting the data together. It's better to have two or three phases of seismic, with four or five wells, then the two wells and seismic we have so far," Andersen said.
"If we continue to have success we'll be looking at a partnership process around the fourth quarter," he continued.
Total and Shell will return to appraise their wells in the second half of the year, setting the stage for Namibia to climb the world rankings.
Along the way, there may be challenges. Some local environmentalists have opposed ReconAfrica's activities. Activists outside the summit named the company, among some others.
Andersen said there was a "small minority" opposed to the company's activities. "There's a lot of enthusiasm and hope that a progressive hydrocarbon industry can bring all the benefits that the developed world experiences," he said.
Furthermore, success will bring new challenges for the administration. A number of companies are now expressing interest in Namibia. "More activity brings more challenges with government having to staff up", he said.
Zimbabwe
Another country that may well be looking at the successes of Namibia and itching for a piece of the action is Zimbabwe.
"We're reaching the critical point now," Invictus Energy managing director Scott Macmillan said. The company has also released seismic results and the well pad at the Mukuyu-1 site is under construction.
Similar to ReconAfrica, Invictus is considering farm-out plans and support from its shareholders for its plans. "That two-track process is still in progress. We have a little time before we need to make a decision."
In April, the company said it was considering three bids, including one from Cluff Energy Africa (CEA).
"The rig is preparing to be mobilised this month. We've got a two well programme starting in July," Macmillan said.
The first target may hold 8.2 trillion cubic feet of gas and 247 million barrels of condensate. "That resource will get bigger," Macmillan said. "It's going to be one of the biggest prospects drilled in 2022."
The second well is for a basin margin play, along the southern margin. "It looks very like the East African rift system, with multiple small targets. It's exciting to be targeting two different play types," the Invictus executive said.
Moving on monetisation
Success at either well would trigger a "swift appraisal campaign", Macmillan continued. "The rig is staying put. We've got some extra long lead items ordered, including an additional wellhead. We have enough casing to follow up with an immediate appraisal. The aim would be to try and unlock further resources."
Two successful wells would be a "fantastic problem. It's a champagne problem".
Success in drilling would see Invictus aim to "progress to monetisation as soon as possible. We've got the agreements to sign with government in the petroleum production sharing agreement in July that will enable that rapid monetisation. We've got gas customers waiting."
Recommended for you

Bentley takes chair role at Invictus