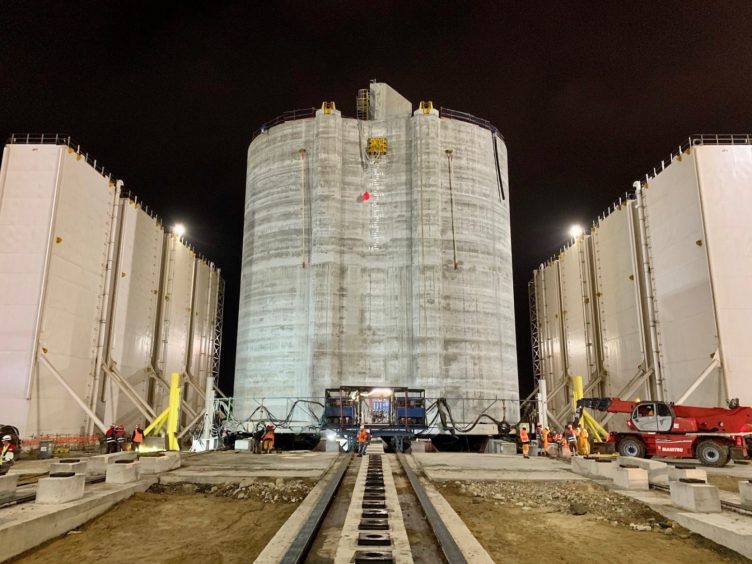 The first caisson for the BP-led Greater Tortue Ahmeyim project in Senegal has left the port of Dakar.
Petrosen announced the move showing a video of a barge moving the caisson. The caissons will be moved to a holding area offshore Dakar before moving into position, around 10 km offshore.
<iframe src="
https://www.linkedin.com/embed/feed/update/urn:li:ugcPost:6792742385358041088
" height="552″ width="504″ frameborder="0″ allowfullscreen="" title="Embedded post"></iframe>
Bygging-Uddeman' sales director Anders Axelsson said it had provided its heavy-duty Slipform and IP-CCV Transfer System.
"Eiffage Génie Civil Marine are producing and skidding 21 concrete caissons at the Dakar site for BP's Grand Tortue Ahmeyim project. On the 20th of April 2021, the first caisson was successfully transferred from land to the floating dock."
The 21 structures will be towed into the sea to form a 1,150 metre breakwater, which will protect the floating LNG (FLNG) project.
Eiffage Génie Civil Marine owns the yard, at the Port of Dakar, where it is building the caissons. Eiffage signed the contract in February 2019.
The company had planned to install the structures in 2020 but COVID-19 disrupted these plans. BP declared force majeure, causing a delay of one year.
It began pouring concrete for the first caisson on October 15, 2020.
Numbers game
The caissons are 55 metres long, 28 metres wide and 31 metres high. Each structure is around 16,000 tonnes. The plan is to install the caissons in water around 33 metres deep.
The caissons will contain sand and water to keep them in place. When filled, the structures will weigh 74,525 tonnes each.
BOA has provided a semi submersible barge to load out and float the caissons. The company said it had widened its BOA Barge 33 to 60.4 metres. The BOA Brage and BOA Heimdal tugs are assisting the barge.
Eiffage will seat the caissons on 2.5 million tonnes of rocks, mined at Mauritania's Akjoujtd quarry. It is transporting rocks to the breakwater site on the Simon Stevin vessel, from Nouakchott.
The company said it would produce 124,200 cubic metres of concrete for the caissons in Dakar.
Once the breakwater is in place, work will start on the near shore FLNG installation.
Recommended for you

Senegal to join GECF ahead of Tortue LNG exports