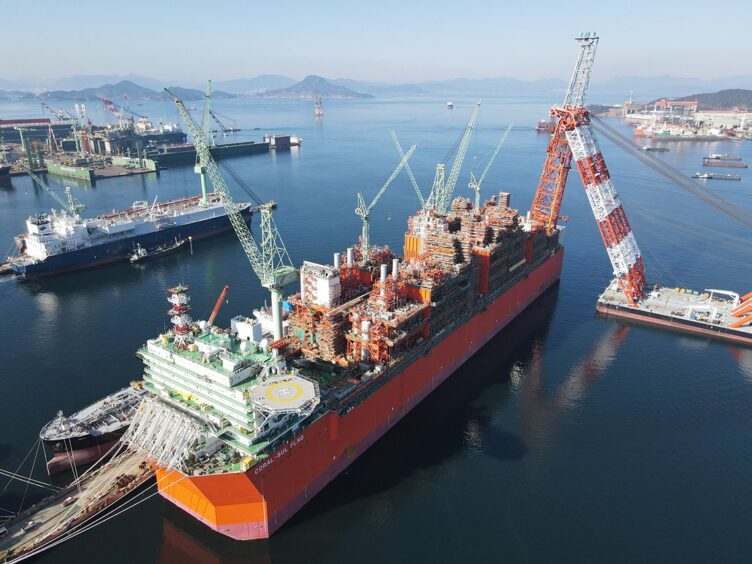 The Coral Sul floating LNG (FLNG) vessel has arrived at Area 4, offshore Mozambique, with the aim of starting production in the second half of 2022.
The Instituto Nacional de Petróleo (INP) announced the arrival of the vessel in the Rovuma Basin.
The regulator said the heliport certification is under way, which will allow the landing and taking off of helicopters to crew the vessel. Also ahead are inspections of various components, it said, by a multi-sectoral team.
INP said it was working to ensure the Coral Sul was in line with HSE requirements, noting the importance of emergency plans.
Another team will inspect the vessel before issuing the operating licence, under regulation 84/2020. INP said it expected this would take place in April.
The regulator went on to say the arrival of the vessel was in line with the government schedule. This started with the final investment decision (FID) in June 2017. Construction began in 2018.
INP noted that work had taken place around the world. The main part was in Samsung Heavy Industry's (SHI) Geoje shipyards, in South Korea.
Major scale
The production vessel is 432 metres long, 66 metres wide and weighs about 220,000 tonnes. It cost around $7 billion and can liquefy 3.37 million tonnes per year.
Mozambique President Filipe Nyusi visited South Korea in November for the official launch ceremony of the Coral Sul FLNG unit.
State-owned Empresa Nacional de Hidrocarbonetos (ENH) has a 10% stake in the project, as do Galp Energia Rovuma and KOGAS Mozambique. Mozambique Rovuma Venture (MRV), a joint venture of Eni, ExxonMobil and CNODC, has the remaining 70%.
BP has signed up to buy production from the project for 20 years.
ALP Maritime provided towing for the vessel, with three tugs: the ALP Sweeper, the ALP Keeper and ALP Striker.
Oxfam has calculated that Mozambique will earn around $11.6bn from Coral Sul FLNG over its lifespan, in line with the Ministry of Finance. Eni has forecast Mozambique will earn $16bn. The Ministry of Mineral Resources and Energy has forecast as much as $24.5bn.
Recommended for you

JGC celebrates third Petronas nearshore FLNG win