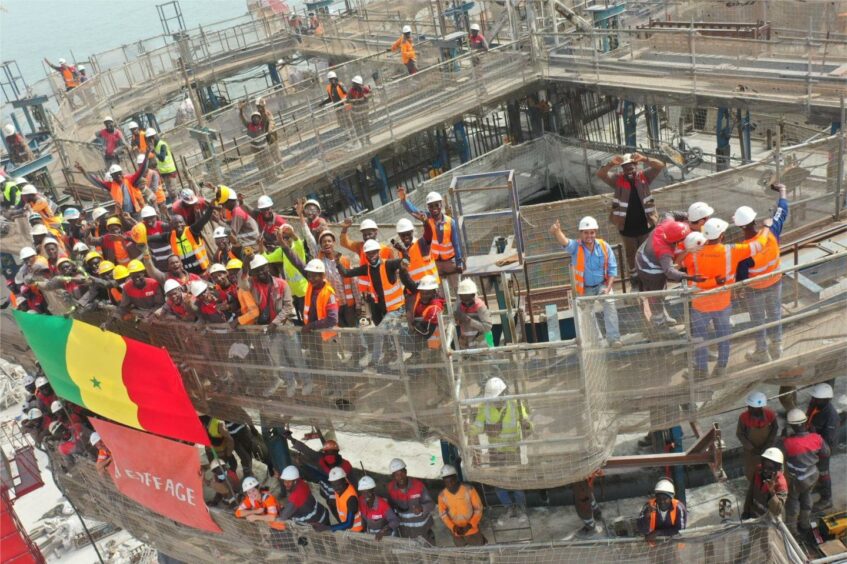 Eiffage Génie Civil Marine has completed the construction of the 21 caissons required for BP's Greater Tortue Ahmeyim (GTA) project.
The caissons will be installed offshore to create a breakwater to protect a floating LNG (FLNG) facility. Of the 21, the company has already installed 16.
Eiffage reported the construction had required more than 130,000 cubic metres of concrete and 30,000 tonnes of steel. It carried out construction in Dakar.
The caissons will weigh 16,000 tonnes each. They are 55 metres long, 28 metres wide and 32 metres high.
Eiffage said it had employed more than 1,700 people, covering 22 different nationalities. More than 97% of the workers were Senegalese.
"We now move on to the construction of the gas transfer platform" Eiffage said.
Bygging-Uddemann reported in December 2021 that it had completed slipforming of all 22 caissons.
On target
The LNG project offshore Mauritania and Senegal will produce 2.5 million tonnes per year initially. It may rise to 10mn tpy later. A decision on a second phase, adding another 2.5mn tpy, may be taken in 2022-23.
BP and junior partner Kosmos Energy aim to reach first production at the GTA LNG project in 2023. The companies had initially expected this in 2022 but COVID-19 disrupted their plans.
The plan covers an 80 km subsea pipeline from the field to the floating production, storage and offloading (FPSO) vessel. There will be another 35 km link from the FPSO to the FLNG facility, which will be in around 30 metres of water.
Recommended for you

Lukoil sees room for more in Congo