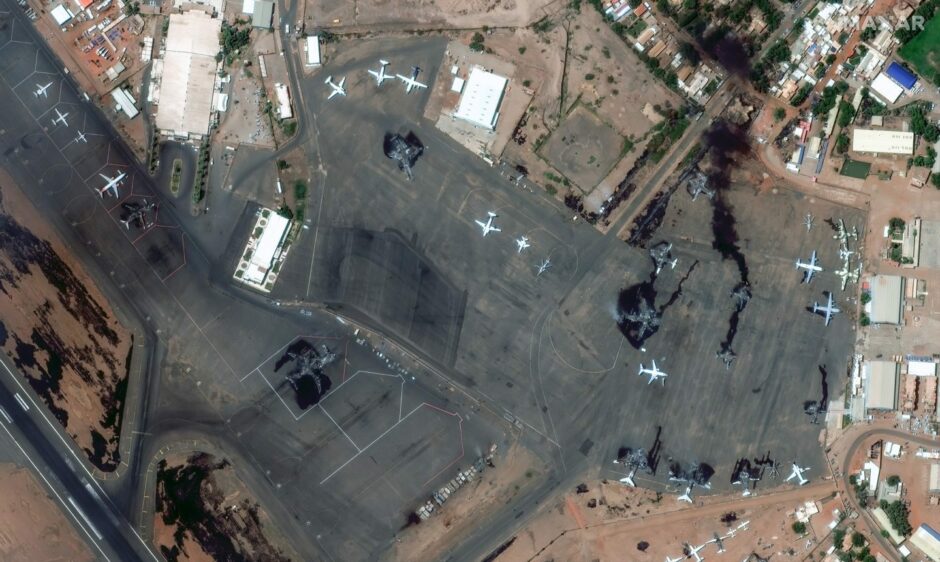 Oil exports from Sudan rose even amid fighting between a paramilitary group and the army, as crude production from South Sudan that fills the line holds steady.
Shipments loading at Port Sudan were at their highest in almost two years in May, at 154,839 barrels a day, compared with 77,419 in March, according to vessel data compiled by Bloomberg. That's despite a conflict erupting in April between the army and the Rapid Support Forces, displacing some 4 million people and deepening a food crisis throughout the North African nation.
From Libya to Yemen, oil exports have often been a victim of civil conflicts in Africa and the Middle East. South Sudan, which became independent from Sudan in 2011, depends on pipelines that traverse its neighbour to transport crude more than 1,500 km (932 miles) from its fields to tankers in the Red Sea.
Both countries' rulers share crucial revenue from the shipments, which have held at 140,000 daily barrels or above for the past three months. The port shipped 148,387 barrels a day in July, the data showed.
The threat of retaliation from South Sudan against groups battling the north's army may be protecting the infrastructure, according to Jonas Horner, an independent analyst.
"Because it relies on oil for 95% of state income, Juba would certainly go to war to maintain the integrity of their pipeline," he said, referring to the capital of South Sudan. That could, in turn, bring in other parties and the risk of a devastating regional war.
In the three months since the conflict escalated, South Sudan has managed to increase some production. The most prolific operations of the Dar Petroleum Operating Co. — of which China National Petroleum Corp. holds 41% and Malaysia's Petroliam Nasional Bhd. a 40% stake — have maintained at more than 100,000 barrels a day since the start of the year, according to oil ministry data.
Production from the Greater Pioneer Operating Co., which operates other blocks and includes CNPC, Petronas and Oil & Natural Gas Corp. of India has fluctuated from 20,000 to 60,000 barrels a day.
There has been some impact from the war, though, with the supply chain of trucks bringing equipment back to the oil wells having slowed.
South Sudan once pumped 350,000 barrels a day before its own civil war broke out in 2013 and challenges including depleted wells make returning to that level unlikely.
Long term, relying on the Sudan pipeline is risky.
The government should "design an alternative way of exporting oil to the markets through the route of East Africa or take serious responsibility of mitigating the political difference among the Sudan warring parties," Edmund Yakani, executive director for the civil society group Community Empowerment for Progress Organization, said by phone from Juba.
The oil revenue is essential in ensuring transitional security as elections loom in South Sudan, he said, with almost three-quarters of the population already in need of humanitarian assistance due to poverty, communal violence and natural disasters.
Recommended for you

Libya's eastern flood devastation raises political risk