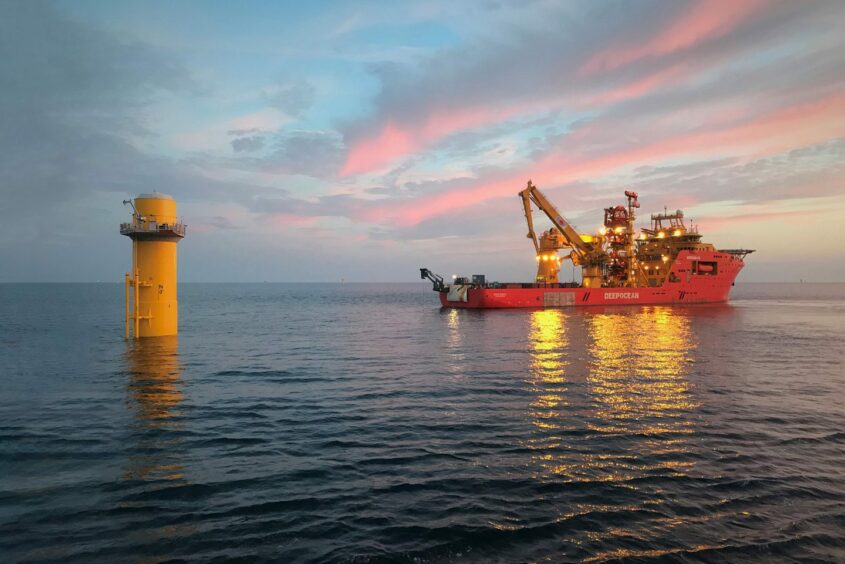 RWE has designated DeepOcean as a preferred supplier for subsea installation services at the Nordseecluster A offshore wind development.
The Nordseecluster combines four wind farm sites in the eastern part of the German North Sea into a 1.6 GW project, consisting of a minimum of 104 wind turbines.
Constructed is set to take place across two phases. Two wind farms – N-3.8 and N-3.7 – with a combined capacity of 660MW are currently in the permit application phase.
Two further wind farms  -N-3.6 and N-3. – will be built in the second phase known as Nordseecluster B, adding a further 900 MW.
Once all four wind farms are in operation in early 2029, the site will produce enough green electricity each year to supply 1.6 million German households.
Under the contract – the value of which was not disclosed – DeepOcean will take charge of preparatory work, transport and installations of all inter-array cables, including trenching, topside pull-ins and terminations for the initial build-out phase.
In total the Oslo-headquartered subsea services group will install 185km of 66kV aluminium and copper cables, starting with connecting all 44 offshore wind turbines of Nordseecluster A.
The scope of work includes project management and engineering, offshore preparation work, trenching, boulder relocation, foundation preparatory work and offshore substation preparatory work; as well as the transport and installation of the cables and seabed surveys and monitoring.
"This is a major contract for us. We have supported RWE in the past and we will apply decades of experience from similar subsea work to deliver the Nordseecluster inline with RWE's high quality requirements," said the firm's offshore renewables director Normann Vikse.
"We will take charge of a large work scope, which will allow us to secure the best possible project design and exploit operational synergies and costs-efficiencies between the various work packages."
The award remains subject to final investment decisions (FID) by RWE. Once that decision is confirmed, DeepOcean will mobilise a complete engineering, project management and planning team that to support the energy group.
The services firm will also provide three vessels – an installation vessel, trenching vessel and walk to work-vessel – on site to deliver the offshore work, likely set for execution in 2026.
Nordseecluster managing director Sven Schulemann added: "We are delighted to have signed with DeepOcean as the last main supplier to install the cables for Nordseecluster A. This is a further important step towards implementing this large-scale project. We are confirmed that DeepOcean is the right partner for us."
DeepOcean chief executive Øyvind Mikaelsen said that the award for the initial A phase with a later opportunity for Nordseecluster B would allow the company to "significantly reduce project execution risk."