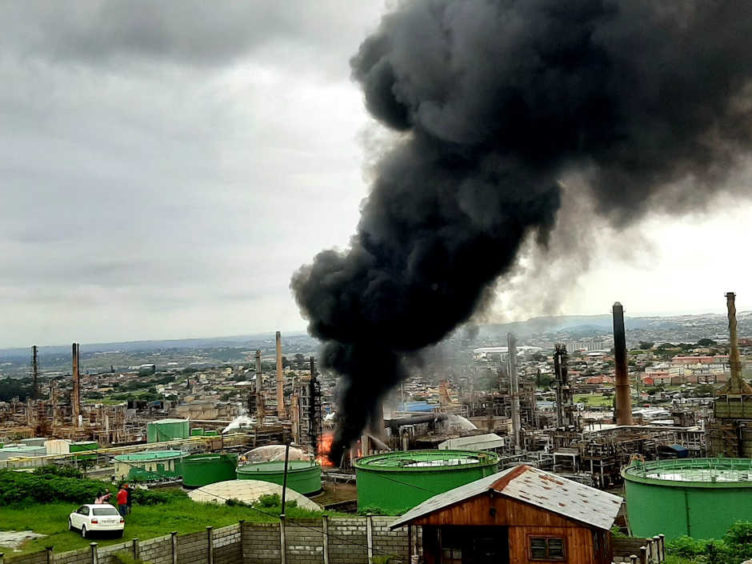 Engen has accounted for all personnel who were at its refinery, south of Durban, where an explosion took place on December 4.
The company said there had been no injuries.
The fire began at 07:08 am. The emergency services extinguished the blaze at 08:45 am. The company has shut down all process units while it carries out an investigation into the root cause.
Engen said it was assessing its overall bulk fuels supply and demand position. It was taking immediate steps to manage inventory.
"In these efforts, the needs of our customers remain our priority and are assured that the company is working hard to ensure secure supply of core petroleum products to the market," it said.
The company said it would provide full co-operation to the authorities and government agencies investigating the incident.
Despite the fire, Engen said the plant adhered to strict health, safety and environmental protocols. The facility operates in "strict accordance with its operating licence requirements".
The KwaZulu Natal provincial government sent a disaster management team to the plant on December 4, when the fire broke out. A representative said the authorities were monitoring air quality. The national authorities have also sent a team to investigate the accident.
The province said seven people at the plant had been treated for smoke inhalation. The local government has asked Engen to provide temporary accommodation for nearby residents of a block of flats, damaged in the fire.
Criminal charges
Greenpeace Africa called for the government to take action on the Durban refinery.
"It has become clear that [Minister of Environment, Forestry and Fisheries] Barbra Creecy's leniency towards carbon majors is costing South Africans their health, wellbeing and lives. Greenpeace demands that Minister Barbara Creecy pursues criminal charges against Engen as a repeat offender of air pollution violations," said the NGO's climate and energy campaigner Nhlanhla Sibisi.
The activist said South Africa needed to phase out the fossil fuel industry. "This is a matter of life or death, an imperative to put people over profits."
Greenpeace also noted reports of two methyl mercaptan gas leaks in July from the Engen facility.
KWAZULU-NATAL PROVINCIAL GOVERNMENTS RESPONDS TO ENGEN REFINERY FIRE@KZNGOV made a swift intervention in response to the explosion at the Engen refinery in Durban. pic.twitter.com/EEvSka7rvQ

— KZN Provincial Gov (@kzngov) December 4, 2020