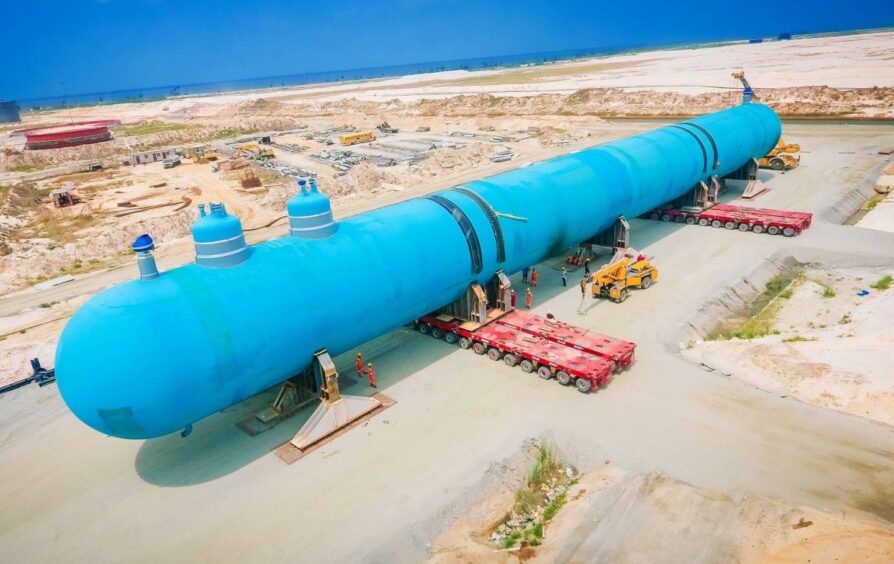 Nigeria is benefiting from higher oil prices, the International Monetary Fund (IMF) has said, but its deficit will widen this year.
Implied fuel subsidies and higher security spending are at the heart of this higher fiscal deficit of 5.9% of GDP, it said.
Socio-economic conditions are a "challenge", the IMF said, with food insecurity and poverty rates increasing during the pandemic.
Oil prices have risen but the IMF said there were "security and technical challenges". Other potential concerns included higher debt servicing and increased violence.
On the positive side, though, the IMF said the non-oil sector may be stronger, in which it included the under construction Dangote Refinery. This plant is due to begin operations in the third quarter of this year.
Furthermore, the passage of the Petroleum Industry Act (PIA) in 2021 – with its "more generous terms" – could spur and increase in oil production.
Better targeting
The IMF executive directors singled out untargeted fuel subsidies for removal. The Nigerian government would do better to provide particular protections for the poor, it said, rather than control fuel prices across the board.
The issue of fuel subsidies is highly political. Nigeria set out a plan in 2020 for full deregulation. However, it has continued intervening in the market.
In 2021, the IMF expects Nigeria to have spent $1bn on subsidies, predicting this will fall to $500 million in 2022.
The country's Federal Executive Council (FEC) has put the cost of fuel subsidies at 3 trillion naira ($7bn) this year.
Nigerian Minister of State for Petroleum Resources Timipre Sylva has rejected a move away from subsidies. Speaking in January, Sylva said the time was not right to remove these. Funding for subsidies will currently end in June under the PIA. It seems likely the government will extend this deadline through an amendment to the act.
The Nigerian Association of Road Transport Owners (NARTO) has threatened to strike in response to the cost of diesel and freight challenges.
The IMF forecast Nigerian production was 1.65 million barrels per day of crude in 2021. It expects this to rise to 1.7mn bpd this year.
OPEC's secondary sources report Nigeria's output in 2021 at 1.34mn bpd. Nigeria also produces around 300,000 bpd of condensate.
Nigeria will hold its presidential elections in February 2023. President Muhammadu Buhari cannot run again. However, Vice President Yemi Osinbajo may be hoping for a shot at the top spot.
Recommended for you

Fossil fuel subsidies hit $1.3trillion despite government pledges to end them