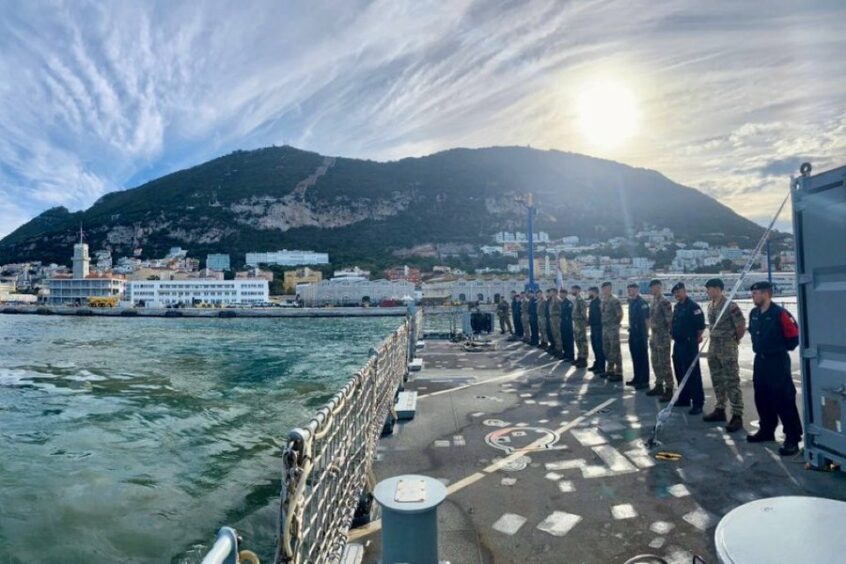 A Royal Navy ship is on its way to the Gulf of Guinea, amid a continued focus on security.
The HMS Trent is setting sail for West Africa. The patrol ship will visit Nigeria, Ghana, Senegal, The Gambia and Cape Verde. It will also participate in a multinational training plan, Exercise Grand African Nemo, led by France.
The vessel will carry out security patrols and training.
UK Armed Forces Minister James Heappey welcomed the deployment of the River-class patrol ship. "It demonstrates how a truly Global Britain is stepping up on the world stage to tackle shared international security challenges," he said.
"Working hand-in-hand with our allies we are utilising our forward deployed Armed Forces to tackle threats at the source, making the world a safer place for all."
The deployment demonstrates the UK commitment to the region, which sees £6 billion of UK trade per year.
The HMS Trent also has a contingent of Royal Marines, from 42 Commando. The marines will be involved in providing training on skills such as boarding and searching, evidence handling and medical skills.
Commanding Officer Thomas Knott said the visit was an "important return to the region", demonstrating the commitment to maritime security.
"We are looking forward to working with regional partners and also engaging with local communities in an effort to strengthen security," he said.
HMS Trent has carried out preparations for the visit in Gibraltar this week. It will attend the Friends of the Gulf of Guinea (FoGG) G7++ conference in Dakar. The UK is co-chairing this with Senegal.
European forces
France has often taken the lead in providing security in West Africa. It typically has one or two vessels in the region, under Operation Corymbe.
Denmark has a plan to send a frigate, the Esbern Snare, to the Gulf of Guinea in November, for five months. The country has highlighted the importance of maritime security and the need to protect "Danish interests, as well as Danish and international shipping".
Italy sent its Nave Marceglia to the Gulf of Guinea in September.
The European Union launched its Coordinated Maritime Presences concept for the Gulf of Guinea in January this year.
According to the United Nations Office on Drugs and Crime (UNODC), there are six pirate groups capable of operating in the region's deepwater.
Local will is also focusing on improving security.
Nigerian President Muhammadu Buhari noted progress on the country's Deep Blue project in a recent speech. The plan aims to improve offshore security. "I am happy to inform Nigerians that we have taken delivery of key assets for this project and very soon, its impact will be felt," he said.
Recommended for you

Supertanker seized after fleeing Nigerian navy