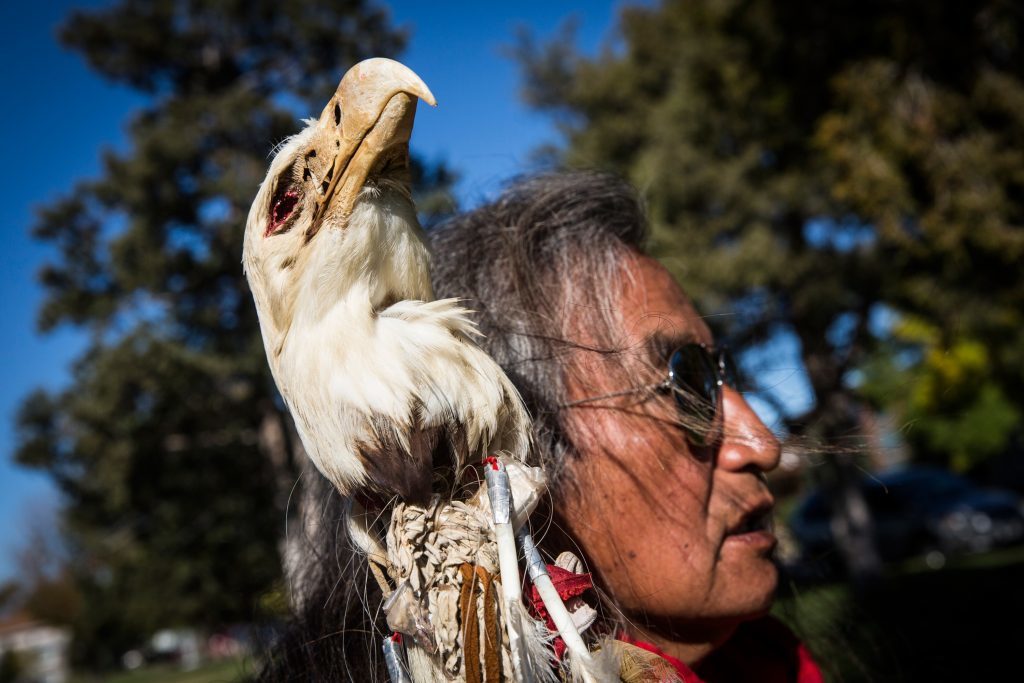 The Obama administration has yet again delayed a decision on the controversial Dakota Access crude pipeline, even as President-elect Donald Trump vows to speed up reviews of such projects.
The U.S. Army Corps of Engineers said Monday that it'll hold more talks with a Native American tribe potentially affected by the pipeline before deciding on a permit that's key to finishing the $3.8 billion project spanning four states. The news came just a day before environmentalists planned to protest at Army Corps offices nationwide, calling for a permanent rejection of the project.
Dakota Access developer Energy Transfer Partners LP has found itself at the center of an intensifying debate over the need for new pipelines in the U.S. While the Obama administration has stalled the project, Trump has said federal approvals for energy infrastructure need to come quicker. Dakota Access has meanwhile become a rallying point for the anti-fossil fuel movement and has drawn intense opposition from Native Americans who say it'll damage culturally significant sites.
"At the end of the day, the Obama administration doesn't want to do it, and this is a way to buy additional time," said Christine Tezak, managing director of research at ClearView Energy Partners LLC in Washington. Ultimately, it may be up to the Standing Rock Sioux Tribe to decide whether "they want to cut a deal with the Obama administration or cut a deal with Trump," she said.
Energy Transfer Chief Executive Officer Kelcy Warren described the Army Corps' delay in a statement late Monday as an action "motivated purely by politics," calling the additional review a "sham process." The company said the pipeline has already gone through a comprehensive review and that it would "vigorously pursue its legal rights in this matter."
The delay prevents Energy Transfer from finishing the 1,172-mile (1,886-kilometer) network that it expects to place into service in the first quarter. The Army Corps decided to review its prior approval of the project after objections were raised by the Standing Rock Sioux Tribe.
Energy Transfer Equity LP, which owns the general partner of Energy Transfer Partners, fell 0.9 percent to $16.83 in New York on Monday. It dropped to $16.25 in after-hours trading.
Trump Administration
The setback may be temporary. While the Army Corps decision prevents the pipeline's completion for now, analysts have said Energy Transfer will probably receive approval to finish the project under Trump's administration. In September, Trump said he'd streamline the permitting process for energy infrastructure, "including the billions of dollars in projects held up by President Obama."
Protests against the Dakota Access pipeline have resulted in hundreds of arrests and drawn support from celebrities including actresses Shailene Woodley and Susan Sarandon. The standoff is emblematic of a broader effort by environmentalists to stall oil and gas pipelines, which they say aren't needed and hurt the the nation's progress in reducing its reliance on fossil fuels.
More than 200 actions have been planned for Tuesday with thousands of people expected to participate in the protests nationwide, according to an e-mailed statement from organizers.
Energy Transfer has said the line is 84 percent complete, and drilling beneath the lake would take 90 to 100 days. Energy Transfer has refused the Army Corps' request to voluntarily slow construction until the federal review was complete.
Cutting Costs
Energy Transfer Partners LP owns the project jointly with Phillips 66 and Sunoco Logistics Partners LP. Marathon Petroleum Corp. and Enbridge Energy Partners LP announced a joint venture in August that would also take a minority stake in the pipeline.
The pipeline would help cut costs for Bakken region drillers, which have had to turn to more expensive rail shipments when existing pipes filled up. Dakota Access, with a capacity of about 470,000 barrels a day, would ship roughly half of current Bakken crude production and allow producers to access Midwest and Gulf Coast markets.
The project previously also came under fire in Iowa, where landowners who objected to its use of eminent domain asked the Iowa Utilities Board to halt the pipeline — but were denied.