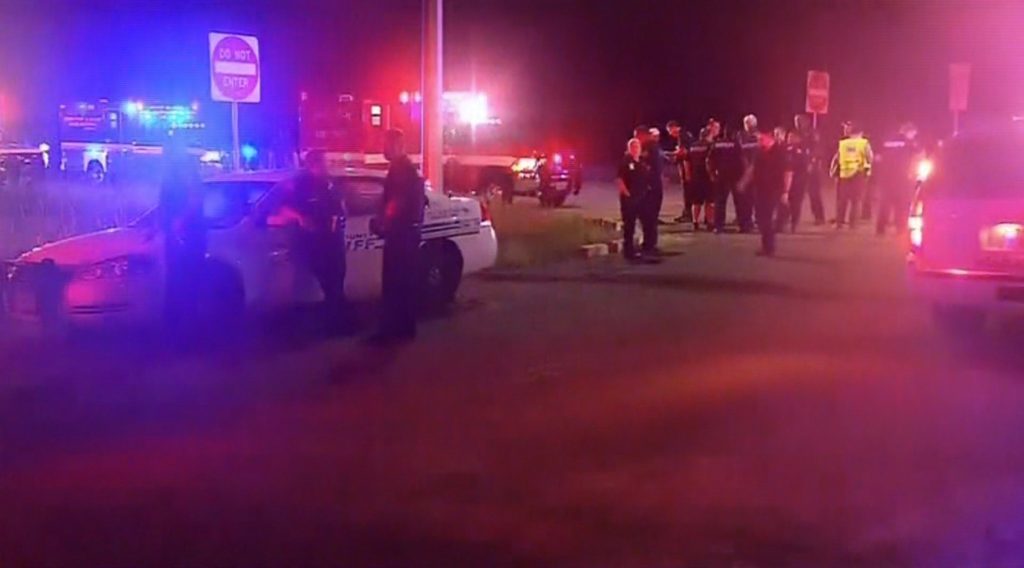 Fires and two explosions have rocked a chemical plant in Texas in the wake of Hurricane Harvey and its devastating floods as the threat of major dangers from the storm centred near the Texas-Louisiana line.
Despite a 30ft to 40ft flame and black smoke at the plant, officials insisted the community was not in danger.
Fire authorities said the blasts at the Arkema plant, about 40 kilometres (25 miles) north-east of Houston, were small and that some deputies suffered irritated eyes from the smoke, but they emphasised that the materials that caught fire shortly after midnight were not toxic.
In the largely rural area surrounding the plant, officials said they had gone door to door to explain the situation and call on residents to evacuate, but leaving was not mandatory.
The plant in Crosby had lost power after the storm, leaving it without refrigeration for chemicals that become volatile as temperatures rise.
Arkema had shut down the plant before Harvey made landfall.
In Houston, the fire department said it would begin a street-by-street search of thousands of flooded homes, and assistant fire chief Richard Mann said that would ensure "no people were left behind".
Further east, Beaumont and Port Arthur struggled with rising water after being pounded with what remained of the weakening storm.
The confirmed death toll climbed to at least 31, including six family members – four of them children – whose bodies were pulled on Wednesday from a van that had been swept off a Houston bridge into a bayou.
Beaumont and Port Arthur worked to evacuate residents.
Port Arthur found itself increasingly isolated as floodwaters swamped most major roads out of the city.
More than 500 people – along with dozens of dogs, cats, a lizard and a monkey – took shelter at the Max Bowl bowling alley, general manager Jeff Tolliver said.
"The monkey was a little surprising, but we're trying to help," he said.
Floodwaters also toppled two oil storage tanks in south Texas, spilling almost 30,000 gallons (114,000 litres) of crude.
It was not immediately clear whether any of the spilled oil was recovered.
More damage to the oil industry infrastructure is expected to emerge as floodwaters recede.
Forecasters downgraded Harvey to a tropical depression late on Wednesday from a tropical storm, but it still has lots of rain and potential damage to spread, with 4in to 8in forecast from the Louisiana-Texas line into Tennessee and Kentucky through until Friday.
Some spots may get as much as a foot, raising the risk of more flooding.
For much of the Houston area, forecasters said the rain is pretty much over.
"We have good news," said Jeff Lindner, a meteorologist with the Harris County Flood Control District. "The water levels are going down."
Houston's two major airports were up and running again on Wednesday.
Officials said they were resuming limited bus and light rail service as well as rubbish collections.
At the same time, many thousands of homes in the Houston area are under water and could stay that way for days or weeks.
Mr Lindner cautioned that homes near at least one swollen bayou could still get flooded.
Officials said 911 centres in the Houston area are getting more than 1,000 calls an hour from people seeking help.
Altogether, more than 1,000 homes in Texas were destroyed and close to 50,000 damaged, and over 32,000 people were in shelters across the state, emergency officials reported.
About 10,000 more National Guard troops are being deployed to Texas, bringing the total to 24,000, governor Greg Abbott said.
In Orange, Texas, about 50 kilometres (30 miles) east of Beaumont, residents of a retirement home surrounded by thigh-deep water were rescued by National Guardsmen and wildlife officers, who carried them from the second floor and put them aboard an airboat.
Harvey initially came ashore as a Category 4 hurricane in Texas on Friday, then went back out to sea and lingered off the coast as a tropical storm for days, inundating flood-prone Houston.
Harvey's five straight days of rain totalled close to 52in, the heaviest tropical downpour ever recorded in the continental US.